Fiat Motors, Limited.
2nd April 1908
Page 19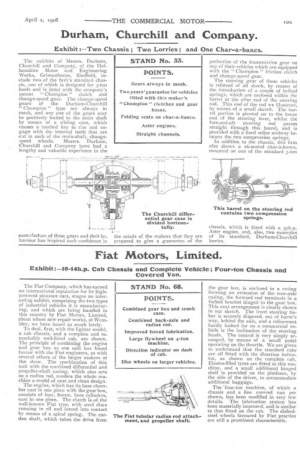 Page 19, 2nd April 1908 —
Fiat Motors, Limited.
Close
Exhibit ;-10.-14h.p. Cab Chassis and Complete Vehicle; Four-ton Chassis and Covered Van.
The Fiat Company, which has earned an international reputation for its highpowered pleasure cars, stages an interesting exhibit, comprising the two types of industrial vehicles it is manufacturing, and which are being handled in this country by Fiat Motors, Limited, about whose new repair works, at Wembley, we have heard so much lately.
To deal, first, with the lighter model, a cab chassis, and a complete and remarkably well-fitted cab, are shown. The principle of combining the engine and gear box as one unit has found favour with the Fiat engineers, as with several others of the larger makers at the show. The combination of this unit with the combined differential and propeller-shaft casing, which also acts as a radius rod, renders the whole ma-. chine a model of neat and clean design.
The engine, which has its base chamber cast in one piece with the gear box, consists of four, Somm, bore cylinders, cast in one piece. The clutch is of the well-known Fiat type, with steel discs running in oil and forced into contact by means of a spiral spring. The cardan shaft, which takes the drive from
the gear box, is enclosed in a casing forming an extension of the rear-axle casing, the forward end terminals in a forked bracket hinged to the gear box. This neat arrangement is clearly shown in our sketch. The front steering tiebar is securely disposed, out of harm's way, behind the axle, and a refinement hardly looked for on a commercial vehicle is the inclination of the steering heads. The control is very simply arranged, by means of a small pedal operating on the throttle. We are given to understand that the standard cabs are all fitted with the direction indicator, as shown on the complete cab. Elastes-filled tyres are fitted to this machine, and a small additional hinged shelf is provided on the platform, by the side of the driver, to accommodate additional baggage.
The 'four-ton machine, of which a chassis and a fine covered van are shown, has been modified in very few details. The lubrication system has been materially improved, and is similar to that fitted on the cab, The dishedsteel wheels favoured by Fiat practice are still a prominent characteristic.