Durham, Churchill and Company.
2nd April 1908
Page 19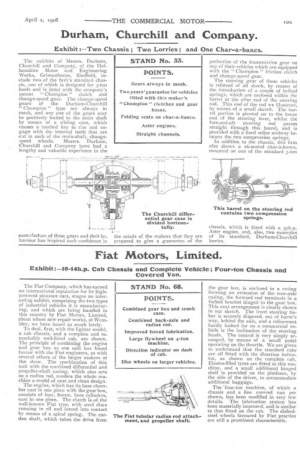 Page 19, 2nd April 1908 —
Durham, Churchill and Company.
Close
Exhibit :—Two Chassis ; Two Lorries; and One Char-a-banes.
The exhibits of Messrs. Durham, Churchill and Company, of the Hallamshire Motor and Engineering Works, Grimesthorpe, Sheffield, include two of the firm's standard chassis, one of which is designed for 3-ton loads and is fitted with the company's patent " Champion " clutch and change-speed gear. The change-speed gears of the Durham-Churchill " Champion " type are always in mesh, and any one of the gears may be positively locked to the main shaft by means of a sliding cam, which causes a toothed key to rise and engage with the internal teeth that are cut in each of the main-shaft, changespeed wheels. Messrs. Durham, Churchill and Company have had a lengthy and valuable experience in the manufacture of these gears and their behaviour has inspired such confidence in the minds of the makers that they are prepared to give a guarantee of the perfection of the transmission gear on any of their vehicles which are equipped with the " Champion " friction clutch and change-speed gear.
The steering gear of these vehicles is relieved of all shock, by reason of the introduction of a couple of helical springs, which are enclosed within the barrel at the after end of the steering rod. This end of the rod we illustrate, by means of a small sketch. The barrel portion is pivoted on to the lower end of the steering lever, whilst the fore-and-aft steering rod passes straight through this barrel, and is provided with a fixed collar midway between the two compression springs. In addition to the chassis, this firm also shows a 26-seated char-a-bancs, mounted on one of the standard 3-ton chassis, which is fitted with a 3oh.p. Aster engine, and, also, two examples of its standard, DurhanbChurchill lorries.