A. R. Atkey and Company, Limited.
2nd April 1908
Page 13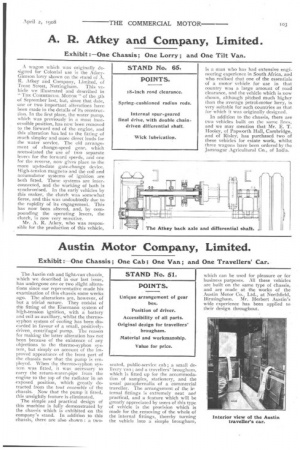 Page 13, 2nd April 1908 —
A. R. Atkey and Company, Limited.
Close
Exhibit :—One Chassis; One Lorry ; and One Tilt Van.
A wagon which was originally designed for Colonial use is the AtkeyGimson lorry shown on the stand of A. R. .Atkey and Company, Limited, of Trent Street, Nottingham. This vehicle we illustrated and described in " THE COMMERCIAL MOTOR "of the 5th of September last, but; since that date, one or two important alterations have been made in the details of its construction. In the first place, the water pump, which was previously in a most inaccessible position, has now been removed to the forward end of the engine, and this alteration has led to the fitting of much simpler and more direct leads for the water service, The old arrangement of change-speed gear, which necessitated the use of two separate levers for the forward speeds, and one For the reverse, now gives place to the more up4o-date gate-change device. High-tension magneto and the coil and accumulator systems of ignition are both fitted. These systems are interconnected, and the working of both is synchronised. In the early vehicles by this maker, the clutch was somewhat fierce, and this was undoubtedly due to the rapidity of its engagement. This has now been altered, and, by compounding the operating levers, the clutch, is now very sensitive.
Mr. A. R. Atkey, who was responsible for the production of this vehicle, is a man who has had extensive engineering experience in South Africa, and who realised that one of the essentials of a motor" vehicle for use in that country was a large amount of road clearance, and the vehicle which is now shown, although pitched much higher than the average petrol-motor lorry, is very suitable for such countries as that for which it was originally designed.
In addition to the chassis, there are two vehicles built on the same lines, and we may .mention that Mr. E. T. Hooley, of Papworth HaIl, Cambridge, and of Risley, has purchased two of these vehicles for estate work, whilst three wagons have been ordered by the Jamnagar Agricultural Co., of India.