Austin' s " Culti-tractors."
29th March 1917
Page 9
Page 10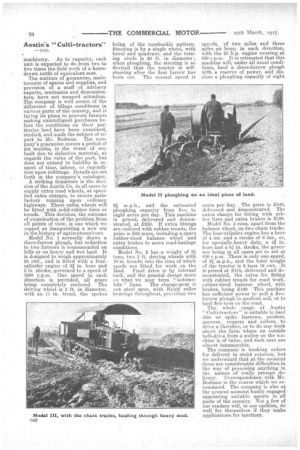 Page 9, 29th March 1917 —
Austin' s " Culti-tractors."
Close
Extra Wheels livith Rubber Tires for Work on the Road.
We had pleasure in recording, several weeks ago, the fact that the Austin Motor Co., Ltd. of Longbridge Works, Northfielcil Birmingham, was farther ahead in its preparations to manufacture and market agrimotors than was any other British motor vehicle manufacturer. This company has recently issued its catalogue of Austin " Culti-tractors," and we are also enabled to reproduce herewith typical photographs of the company's three models in course of use on the land.
Mr. Herbert Austin has been de
voting a certain amount of time to the problem—quite as much as he has been able to spare from his other national work of shell and vehicle production. About the fall of last year, on his instructions, Mr. Walter L. Bodman, who is manager of the new department at the Ad-still works, was sent to America to carry out investigations, and to make purchases of specimen tractors. It is upon varied experience gained in America and supplemented later with the specimen tractors in Warwickshire and Worcestershire on the land, that the new Austin " Culti-tractors " are to be made and sold. Mr. Austin and his colleague in this department, Mr. Bodman, take the view that first cost must be kept as low as possible, in order that the smaller farmers may be buyers. Operation of each tractor in the field by one man is held to be a sine qua non' in conjunction with consumption of cheap fuel—paraffin—and general low running cost. The guiding principle has been to turn out machines which can be run, adjusted and repaired by men who have hitherto been ignorant of
machinery. As to capacity, each unit is expected to do from two to five times the field work of a horsedrawn outfit of equivalent cost.
The matters of guarantee, maintenance of spares and supplies, and provision of a staff of advisory experts, mechanics and demonstrators, have not escaped attention. The company is well aware of the difference of tillage conditions in various parts of the country, and is laying its plans to prevent farmers making unintelligent purchases before the conditions on their particular land have been examined, studied, and made the subject of report to Mr. Bodman. The company's guarantee covers a period of six months, in the event of any fault due to defective material, as regards the value of the part, but does not extend to liability in respect of time, labour, or expenditure upon refittings. Details are set forth in the company's catalogue, A striking departure is the decision of the Austin Co. in all cases to supply extra road wheels, at, specified extra charges, to ensure satisfactory running upon ordinary highways. These extra wheels will be fitted with solid-rubber tires or treads. This decision, the outcome of examination of the problem from all points of view, is one which we regard as inaugurating a new era in the history of agrimotoreulture.
Model No. 1 normally draws a three-furrow plough, but reduction to two furrows is recommended on hills or on heavy and wet land. It is designed to weigh approximately 35 cwt., and is fitted with a fourcylinder engine of. 3.1 in. bore and 5 in. stroke, governed to a speed of 1000 r.p.m. One speed in each direction is provided, all gears being completely enclosed. The driving wheel is 5 ft. in diameter, with an 1:: ix. tread, the spokes being of the turnbuckle pattern. Steering is by a single wheel, with bevel and quadrant, and the turning circle is 20 ft. in diameter ; when ploughing, the steering is so devised that the tractor is selfsteering after the first furrow has been cut. The normal speed is 21 m.p.h., and the estimated ploughing capacity from five to eight acres per day. This machine is priced, delivered and demonstrated, at £250. If extra fittings are ordered with rubber treads., the price is £60 more, including a spare rubber-tired balance wheel and extra brakes to serve road-haulage conditions.
Model No. 2 has a weight of 2 tons, two 5 ft. driving wheels with 10 in. treads, into the rims of which spuds are fitted for work on the land. Final drive is by internal rack, and the general design more on what we may term " automobile" lines. The change-gear is cut steel spur, with Hyatt roller bearings throughout, providing two speeds, of two miles and three miles an hour; in each direction, With the 25 h.p. engine running at 850 r.p.m. It is estimated that this machine will, under all usual conditions,. haul a three-furrow plough with a reserve of power, and disclose a ploughing capacity of eight acres per day. The price is £346, delivered and demonstrated. The extra charge for fitting with rubber tires and extra brakes is X-100.
Model No. 3 runs, apart from-the balance wheel, on two chain tracks. The four-cylinder engine has a bore of 4 ins, and a stroke of 6 ins., or, for specially-heavy duty, a, zif bore and a 61 in. stroke, the governor being in all cases set to act at 850 r.p.m. There is only one speed, of 21 m.p.h., and the total weight of the tractor is 2 tons 12 cwt. • It is priced at £415, delivered and demonstrated, the extra for fitting Ivith rubber treads for road work, rubber-tired balance wheel, with brakes, being. £100. This machine has sufficient power to pull a five,. furrow plough in medium soil, or_to haul five tons on the road.
The whole range of Austin " Culti-tractors " is suitable to haul disc or spike harrows, seeders, mowers, reapers and rollers, to drive a thresher,. or to do any work about the farm where an outside belt-drive from a pulley on the machine is of value, and such uses are almost innumerable.
The company is booking orders for delivery in strict rotation, but we understand that at the moment there are considerable difficulties, in the way of promising anything in the nature of really prompt de-, livery. Correspondence with Mr. Bodman is the course which we recommend. The company is also 4 the present moment busily engaged appointing suitable agents in all parts of the country. Not few of our readers will, in our .opilion, do well for themselves it they "make applications for territory.