'Backward' attitude blamed for closure
29th August 1975
Page 6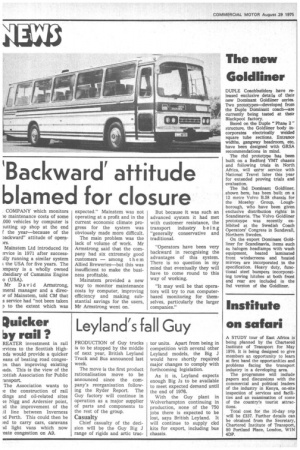 Page 6, 29th August 1975 —
'Backward' attitude blamed for closure
Close
. COMPANY which monitors ie maintenance costs of some 000 vehicles by computer is lutting up shop at the end the year—because of the packward" attitude of opera Mainstem Ltd introduced its .rvice. in 1971 after successilly running a similar system the USA for five years. The )mpany is a wholly owned tbsidiary of Cummins Engine o (USA).
Mr David Armstrong, ..neral manager and a direc1,r of Mainstem, told CM that $ service had "not been taken p to the extent which was expected." Mainstem was not operating at a profit and in the current economic climate progress for the system was obviously made more difficult.
The main problem was the lack of volume of work. Mr Armstrong said that the company had six extremely good customers — among them Allied Breweries—but this was insufficient to make the business profitable.
Mainstem provided a new way to monitor maintenance costs by computer, improving efficiency and making substantial savings for the users, Mr Armstrong went on. But because it was such an advanced system it had met with customer resistance, the transport industry being "generally conservative and traditional.
"Operators have been very backward in recognising the advantages of this system. There is no question in my mind that eventually they will have to come round to this way of working.
"It may well be that operators will try to run computerbased monitoring for themselves, particularly the larger companies."