Trucks help Leyland trim its losses
28th September 1985
Page 6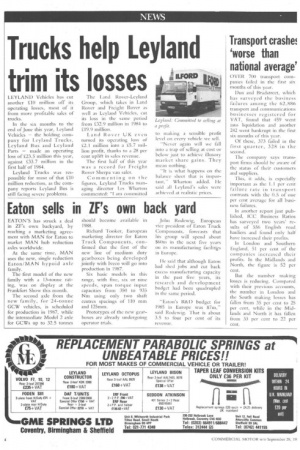 Page 6, 28th September 1985 —
Trucks help Leyland trim its losses
Close
Keywords :
British Leyland
,
British Brands
,
Land Rover
,
Rover
,
Vans
,
Freight Rover
,
Leyland Trucks
,
Leyland Bus
,
Rover Company
,
Ldv Pilot
,
Land Rover Group
,
Daf Nv
,
Business / Finance
LEYLAND Vehicles has cut another E10 million off its operating losses, most of it from more profitable sales of trucks.
In the six months to the end of June this year, Leyland Vehicles — the holding company for Leyland Trucks, Leyland Bus and Leyland Parts — made an operating loss of i23.5 million this year, against .03.7 million in the first half of 1984.
Leyland Trucks was responsible for most of that .S:10 million reduction, as the company reports Leyland Bus is still facing severe problems. The Land Rover-Leyland Group, which takes in Land Rover and 'Freight Rover as well as Leyland Vehicles, cut its loss in the same period from 02.9 million in 1984 to .£.19.9 million.
Land Rover UK even turned its operating loss of £2.1 million into a i:5.7 million profit, thanks to a 28 per cent uplift in sales revenue.
The first half of this year was a record for Freight Rover Sherpa van sales.
Commenting on the figures, Leyland Trucks managing director Les Wharton commented: "I am committed to making a sensible profit level on every vehicle we sell.
-Never again will we fall into a trap of selling at cost or below just to achieve illusory market share gains. They mean nothing.
-It is what happens on the balance sheet that is important,Wharton added. He said all Leyland's sales were achieved at realistic prices.