Eaton sells in 1F's own back yard
28th September 1985
Page 6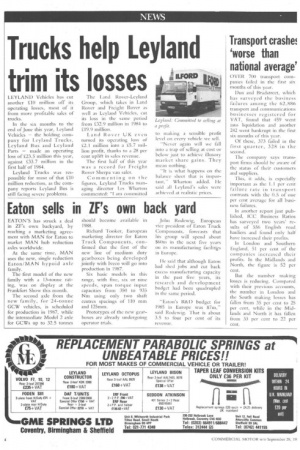 Page 6, 28th September 1985 —
Eaton sells in 1F's own back yard
Close
EATON'S has struck a deal in ZE's own backyard, by reaching a marketing agreement with MAN for Eaton to market MAN hub reduction axles worldwide.
At the same time, MAN uses the new, single reduction Eaton/MAN hypoid axle family.
The first model of the new family with a 13-tonne rating, was on display at the Frankfurt Show this month.
The second axle from the new family, for 24-tonne GCW vehicles, is scheduled for production in 1987, while the intermediate Model 2 axle for GCWs up to 32.5 tonnes should become available in 1988.
Richard Tooker, European marketing director for Eaton Truck Components, confirmed that the first of the new line of medium duty gearboxes being developed jointly with Iveco will go into production in 1987.
Six basic models in this range, with five, six or nine speeds, span torque input capacities from 350 to 935 Nin using only two shaft centres spacings of 110 mm and 125mm.
Prototypes of the new gearboxes are already undergoing. operator trials. John Rodewig, European vice president of Eaton Truck Components, forecasts that his group will spend about 1660m in the next five years on its manufacturing facilities in Europe.
1 le said that although Eaton had shed jobs and cut back excess manufacturing capacity in the past five years, its research and development budget had been quadrupled in the same period.
"Eaton's R&D budget for 1985 in Europe was S7in," said Rodewig. That is about 3.5 to four per cent of its revenue.