T WELVE MONTHS ago Scania introduced the 92-Series truck range with
28th September 1985
Page 52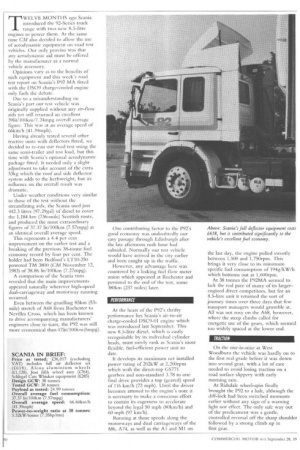 Page 53
Page 52, 28th September 1985 —
T WELVE MONTHS ago Scania introduced the 92-Series truck range with
Close
two new 8.5-litre engines to power them. At the same rime CM also decided to allow the use of aerodynamic equipment on road test vehicles. Our only proviso was that any aerodynamic aid must be offered by the manufacturer as a normal vehicle accessory.
Opinions vary as to the benefits of such equipment and this week's road test report On Scania's P92 MA fitted with the DS09 charge-cooled engine only fuels the debate.
Due to a misunderstanding on Scania's part our test vehicle was originally supplied without any air-flow aids yet still returned an excellent 39lit/100km/7.24mpg overall average figure. This was at an average speed of 66km/h (41.39mph).
Having already tested several other tractive units with deflectors fitted, we decided to re-run our road test using the same semi-trailer and test load, but this time with Scania's optional aerodynamic package fitted. It needed only a slight adjustment to take account of the extra 53kg which the roof and side deflector system adds to the kcrbweight, but its influence on the overall result was dramatic.
Under weather conditions very similar to those of the test without the streamlining aids, the Scania used just 442.3 litres (97.29gal) of diesel to cover the 1,184 km (736-mile) Scottish route, and produced the most extraordinary figures of 37.37 lit/100km (7.57mpg) at an identical overall average speed.
This represents a 4.4 per cent improvement on the earlier test and a breaking of the previous 38-tonne fuel economy record by four per cent. The holder had been Bedford's LT10-250 powered TM 3800 (CM November 12, 1983) of 38.86 lit/100km (7.27mpg).
A comparison of the Scania runs revealed that the main improvements appeared naturally wherever high-speed dual-carriageway and motorway running occurred.
Even between the gruelling 85km (53mile) stretch of A68 from Rochester to Nevilles Cross, which has been known to drive accompanying manufacturers' engineers close to tears, the P92 was still more economical than 471it/ 100km (6mpg). One contributing factor to the P92's good economy was undoubtedly our easy passage through Edinburgh after the late afternoon rush hour had subsided. Normally our test vehicle would have arrived in the city earlier and been caught up in the traffic.
However, any advantage here was countered by a leaking fuel flow meter union which appeared at Rochester and persisted to the end of the test, some 380km (237 miles) later.
PERFORMANCE At the heart of the P92's thrifty performance lies Scania's air-to-air charge-cooled DSC9-01 engine which was introduced last September. This new 8.5-litre diesel, which is easily recognisable by its individual cylinder heads, must surely rank as Scania's most flexible, fuel-efficient power unit to date.
It develops its maximum net installed power rating of 202kW at 2,200rpm which with the direct-top GS771 gearbox and non-standard 3.78 to one final drive provides a top (geared) speed of 116 km/h (72 mph). Until the driver becomes attuned to the engine's note it is necessary to make a conscious effort to contain its eagerness to accelerate beyond the legal 50 .mph (80km/h) and 60 mph (97 km/h).
Running at those speeds along the motorways and dual carriageways of the M6, A74, as well as the Al and M1 on the last day, the engine pulled sweetly between 1,500 and 1,750rpm. This brings it very close to its minimum specific fuel consumption of 194g/kW/h which bottoms out at 1,600rpm.
At 38 tonnes the P92MA seemed to lack the real pace of many of its largererigined direct competitors, but for an 8.5-litre unit it returned the sort of journey times over three days that few transport managers would grumble at. All was not rosy on the A68, however, where the steep climbs called for energetic use of the gears, which seemed too widely spaced at the lower end.
TRACTION On the one-in-nine at West
Woodburn the vehicle was hardly on to the first real grade before it was down into second gear, with a lot of care needed to avoid losing traction on a road surface slippery with early morning rain.
At Ridsdale wheel-spin finally brought the P92 to a halt, although the diff-lock had been switched moments earlier without any sign of a warning light nor effect. The only safe way out of the predicament was a gentle, controlled reversal off the sharp shoulder followed by a strong climb up in first gear. The only ill effect here was vibration from the drive-Axle brakes similar to that felt when reversing off the one-insix at the Motor Industry Research Association's test track. A fleet operator would be well-advised to check this vehicle's dill-locks when carrying out winter precautions before the onset of bad weather.
Changing back to the 4.25 to one standard differential would also seem a good idea if the vehicle were running in this hilly-terrain regularly. Looking at the way it performed over the Carter Bar and Blacklain, we would expect better journey times from such a change.
Starting from rest on any reasonably flat road meant using second, fourth and then each remaining ratio. Any sort of any upward gradient, however, meant using first gear to ensure a smooth take-off.
Scania's unusual gear-change pattern of the top four gears is less formidable than it seems once the driver is used to it. Each ratio requires a full lever movement going from seventh back to eighth across the gate. Moving into ninth once the splitter has been operated_ is another full movement, as is going fully back to 10 (top).
The North of England sections demonstrated the Scania's low in-cab noise levels and its very good ride qualities. They also provided a healthy testing ground for any vehicle's braking system. At M1RA's Nuneaton test track, all-out full pressure stops at 20, 30 and 40mph (32, 50 and 64 km/h) showed that although the vehicle pulled up straight the drive axle wheels locked-on immediately each time.
On the long downhill runs to Corbridge and Shotley Bridge, brake drums and linings tend to become very hot, but this was not the case with the
P92M. The exhaust brake, too, was quite effective and combined well with the main brakes to relieve some of the strain on the system.
CH COMFORT
Scania's CP-19 sleeper cab has much to commend it, from its easy accessibility, to its effective suspension arrangement. Three well-spaced and lit steps with handrails, doors which opened out to 79 deg and clear footwell areas make cab entry almost effortless.
The driver's suspended seat is electrically heated should the temperature fall below 12°. The heating cuts out by means of a pressure switch in the base of the cushion.
The rear-view mirrors are also heated and this is of immense value in maintaining clear areas when there is a lot of spray about. The three-mirror set on the nearside is extremely useful, especially when negotiating tight junctions in congested areas. They made the 315 deg turn into Charlotte Square in Edinburgh almost an armchair affair.
Scania's air-over-hydraulic clutch is one of the lightest around and complements the repositioned and easier-to-operate gear shift lever. This has been angled forward and downward to provide a 12Ornm lower position.
All the switches and controls are well positioned and easy to reach, apart from the side and headlight switch which is too close to the diff-lock switch. The headlight levelling control, which is located next to the park brake lever, is first class and is most useful on long straight stretches at night where the Main beam is too high. By careful manipulation you can project the welldefined edge of the beam forward without causing glare. SUMM4RY The P92MA's outstanding quality is its fuel-efficient performance at 38 tonnes. This is backed up by a healthy near-25tonne payload capacity and the ability to produce reasonable journey times over long motorway routes.
It has a very comfortable and welldesigned cab which will appeal to owner-drivers and small fleet men. All this is not cheap however. Our test vehicle would be priced at more than £36,000.
The only strong criticisms which can be levelled at this vehicle are the unsuitability of its lower (numerically) final-drive ratio for the severe northern terrain and its recurring drive-axle wheel lock-up.