Relaxed 0-licensing, hours rules by '88?
28th September 1985
Page 5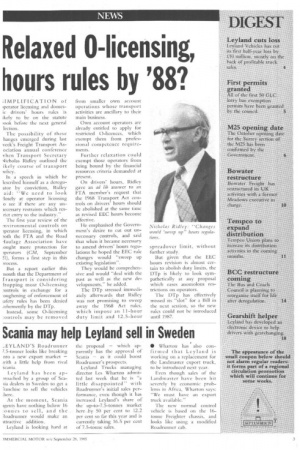 Page 5, 28th September 1985 —
Relaxed 0-licensing, hours rules by '88?
Close
Keywords :
AMPLIFICATION of .perator licensing and domesic drivers' hours rules is ikely to be on the statute look before the next general lection.
The possibility of these hanges emerged during last veek's Freight Transport Asociation annual conference vhen Transport Secretary Nlicholas Ridley outlined the ikely course of transport )olicy.
In a speech in which he lescribed himself as a dereguator by conviction, Ridley aid: "We need to look :losely at operator licensing o see if there are any untecessary restraints which resrict entry to the industry.
The first year review of the mvironmental controls on )perator licensing, in which >oth the ETA and the Road -laulage Association have :ought more protection for Terators (CM, September ?I), forms a first step in this nocess.
But a report earlier this nonth that the Department of Transport is considering iropping most 0-licensing :ontrols in exchange for a :oughening of enforcement of ;afety rules has been denied iehemently by the DTp.
Instead, some 0-licensing :ontrols may be removed from smaller own account operations whose transport activities are ancillary to their main business.
Own account operators are already entitled to apply for restricted 0-licences, which exempt them from professional competence requirements.
Further relaxation could exempt those operators from being bound by the financial resources criteria demanded at present.
On drivers' hours, Ridley gave an ad lib answer to an ETA member's request that the 1968 Transport Act controls on drivers' hours should be abolished at the same time as revised EEC hours become effective.
tie emphasised the Government's desire to cut out unnecessary controls, and said that when it became necessary to amend drivers' hours regulations he hoped the EEC: rule changes would "sweep up existing legislation-.
They would be comprehensive and would "deal with the past as well as the new developments," he added.
The DTp stressed immediately afterwards that Ridley was not promising to sweep away the 1968 Act rules, which impose an 11-hour duty limit and 12.5-hour spreadover limit, without further study.
But given that the EEC hours revision is almost certain to abolish duty limits, the DTp is likely to look sympathetically at any proposal which eases anomolous restrictions on operators.
The DTp has effectively missed its "slotfor a Bill in the next session,so the new rules could not he introduced until 1987.