DEPARTURES FROM PROFIT
28th September 1985
Page 43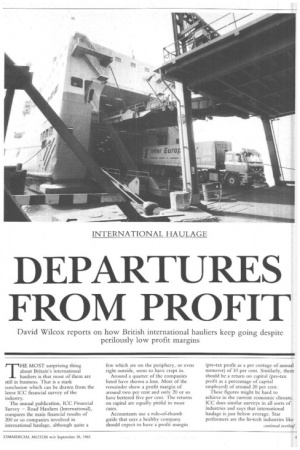 Page 44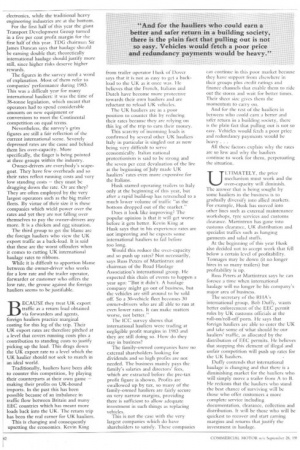 Page 43, 28th September 1985 —
DEPARTURES FROM PROFIT
Close
David Wilcox reports on how British international hauliers keep going despite perilously low profit margins
THE MOST surprising thing about Britain's international hauliers is that most of them are still in business. That is a stark conclusion which can be drawn from the latest ICC financial survey of the industry.
The annual publication, ICC Financial Survey — Road Hauliers (International), compares the main financial results of 200 or so companies involved in international haulage, although quite a few which are on the periphery, or even right outside, seem to have crept in.
Around a quarter of the companies listed have shown a loss. Most of the remainder show a profit margin of around two per cent and only 20 or so have bettered five per cent. The returns on capital are equally pitiful in most cases.
Accountants use a rule-of-thumb guide that says a healthy company should expect to have a profit margin (pre-tax profit as a per centage of annual turnover) of 10 per cent. Similarly, there should be a return on capital (pre-tax profit as a percentage of capital employed) of around 20 per cent.
These figures might be hard to achieve in the current economic climate. ICC does similar surveys in all sorts of industries and says that international haulage is just below average. Star performers are the hi-tech industries like electronics, while the traditional heavy engineering industries are at the bottom.
For the first half of this year the giant Transport Development Group turned in a five per cent profit margin for the first half of this year. TDG chairman Sir James Duncan says that haulage should be earning double that; theoretically international haulage should justify more still, since higher risks deserve higher rewards.
The figures in the survey need a word of explanation. Most of them refer to companies' performance during 1983. This was a difficult year for many international hauliers: it was the time of 38-tonne legislation, which meant that operators had to spend considerable amounts on new equipment or conversions to meet the Continental competition on equal terms.
Nevertheless, the survey's grim figures are still a fair reflection of the current international scene. Severely depressed rates are the cause and behind them lies over-capacity. More specifically, the finger is being pointed at three groups within the industry.
Owner-drivers are everybody's scapegoat. They have few overheads and so their rates reflect running costs and very low standing costs — they must be dragging down the rate. Or are they? They are often employed by the very largest operators such as the big trailer fleets. By virtue of their size it is these companies which wield power over the rates and yet they are not falling over themselves to pay the owner-drivers any more. It is a chicken and egg situation.
The third group to get the blame are the foreign hauliers who view the UK export traffic as a back-load. It is said that these arc the worst offenders when it comes to cutting UK international haulage rates to ribbons.
While it is difficult to apportion blame between the owner-driver who works for a low rate and the trailer operator, forwarder or customer who offers the low rate, the grouse against the foreign hauliers seems to be justifiable.
BECAUSE they treat UK export traffic as a return load obtained via forwarders and agents, foreign hauliers practice marginal costing for this leg of the trip. Their UK export rates are therefbre pitched at a level that covers running costs plus a contribution to standing costs to justify picking up the load. This drags down the UK export rate to a level which the UK haulier should not seek to match in an ideal world.
Traditionally, hauliers have been able to counter this competition, by playing their counterparts at their own game — making their profits on UK-bound imports. In the past this has been possible because of an imbalance in traffic flow between Britain and many EEC countries which has meant more loads back into the UK. The return trip has been the real earner for UK hauliers.
This is changing and consequently upsetting the economics. Kevin King from trailer operator Husk of Dover says that it is not as easy to get a backload to the UK as it once was. He believes that the French, Italians and Dutch have become more protective towards their own hauliers and are reluctant to reload UK vehicles.
The UK hauliers are in a poor position to counter this by reducing their rates because they arc relying on this leg of the trip to earn their money.
This scarcity of incoming loads is confirmed by several other UK hauliers Italy in particular is singled out as now being very difficult to serve economically. Italian national protectionism is said to be strong and the seven per cent devaluation of the lire at the beginning ofjuly made UK hauliers' rates even more expensive for the Italians.
Husk started operating trailers to Italy only at the beginning of this year, but after a rapid build-up has retrenched to a much lower volume of traffic "as the bottom dropped out of the market."
Does it look like improving? The popular opinion is that it will get worse before it gets better. Kevin King at Husk says that in his experience rates are not improving and he expects some international hauliers to fail before too long.
Would this reduce the over-capacity and so push up rates? Not necessarily, says Russ Peters of Martintrux and chairman of the Road Haulage Association's international group. He expected this chain of events to happen a year ago: "But it didn't. A haulage company might go out of business, but the vehicles are still around to be sold off. So a 30-vehicle fleet becomes 30 owner-drivers who are all able to run at even lower rates. It can make matters worse, not better."
The ICC survey shows that international hauliers were trading at negligible profit margins in 1983 and they are still doing so. How do they stay in business?
The family-owned companies have no external shareholders looking for dividends and so high profits are not needed. The business mainly pays the family's salaries and directors' fees, which are extracted before the pre-tax profit figure is shown. Profits are swallowed up by tax, so many of the family-owned hauliers are fairly secure on very narrow margins, providing there is sufficient to allow adequate investment in such things as replacing vehicles.
This is not the case with the very largest companies which do have shareholders to satisfy. These companies can continue in this poor market because they have support front elsewhere in their groups plus credit ratings and finance channels that enable them to ride out the storm and wait for better times. Their sheer size gives them the momentum to carry on.
And for the rest of the hauliers in between who could earn a better and safer return in a building society, there is the plain fact that pulling out is not so easy. Vehicles would fetch a poor price and redundancy payments would be heavy . . .
All these factors explain why the rates are so low and why the hauliers continue to work for them, perpetuating the situation.
ULTIMATELY, the price mechanism must work and the over-capacity will diminish. The answer that is being sought by some hauliers in the business is to gradually diversify into allied markets. For example, Husk has moved into other lines such as external maintenance workshops, tyre services and customs clearance. Martintrux has gone into customs clearance, UK distribution arid specialist traffics such as hanging garments and salad stuffs.
At the beginning of this year Husk also decided not to accept work that fell below a certain level of profitability. Tonnages may be down (it no longer hires in so many trailers) but profitability is up.
Russ Peters at Martintrux says he can foresee a time when international haulage will no longer be his company's major area of business.
The secretary of the RI IA's international group, Bob Duffy, wants better enforcement of the EEC permit rules by UK customs officials at the roll-on/roll-off ports. He says that foreign hauliers are able to enter the UK and take some of what should be our hauliers' traffic, as allocated by the distribution of EEC permits. He believes that stopping this element of illegal and unfair competition will push up rates for the UK hauliers. .
Duffy contends that international haulage is changing and that there is a diminishing market for the hauliers who will simply move a trailer from A to B. He reckons that the hauliers who stand the best chance of surviving will be those who offer customers a more complete service including documentation, clearance, collection and distribution. It will be those who will be quickest to recover and start earning margins and returns that justify the investment in haulage.