NIGHT SHIFTING
28th September 1985
Page 36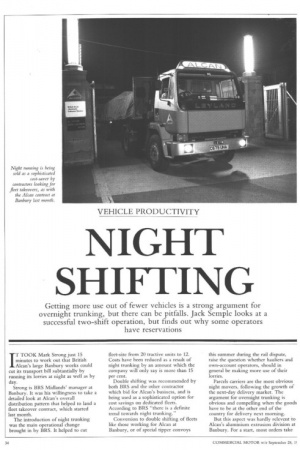 Page 37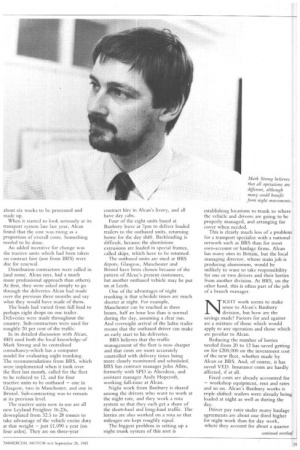 Page 38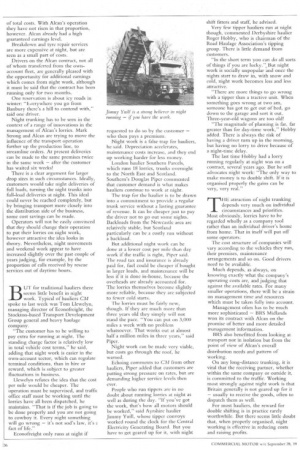 Page 36, 28th September 1985 —
NIGHT SHIFTING
Close
Getting more use out of fewer vehicles is a strong argument for overnight trunking, but there can be pitfalls. Jack Semple looks at a successful two-shift operation, but finds out why some operators have reservations
IT TOOK Mark Strong just 15 minutes to work out that British Alcan's large Banbury works could cut its transport bill subtantially by running its lorries at night as well as by day.
Strong is BRS Midlands' manager at Banbury. It was his willingness to take a detailed look at Alcan's overall distribution pattern that helped to land a fleet takeover contract, which started last month.
The introduction of night trunking was the main operational change brought in by BRS. It helped to cut fleet-size from 20 tractive units to 12. Costs have been reduced as a result of night trunking by an amount which the company will only say is more than 15 per cent.
Double shifting was recommended by both BRS and the other contractor which bid for Alcan's business, and is being used as a sophisticated option for cost savings on dedicated fleets. According to BRS "there is a definite trend towards night trunking."
Conversion to double shifting of fleets like those working for Alcan at Banbury, or of special tipper convoys this summer during the rail dispute, raise the question whether hauliers and own-account operators, should in general be making more use of their lorries.
Parcels carriers are the most obvious night movers, following the growth of the next-day delivery market. The argument for overnight trunking is obvious and compelling when the goods have to be at the other end of the country for delivery next morning.
But this aspect was hardly relevcnt to Alcan's aluminium extrusion division at Banbury. For a start, most orders take about six weeks to be processed and made up.
When it started to look seriously at its transport system late last year, Akan found that the cost was rising as a proportion of overall costs. Something needed to be done.
An added incentive for change was the tractive units which had been taken on contract hire (not from BRS) were due for renewal.
Distribution contractors were called in (and some, Alcan says, had a much more professional approach than others). At first, they were asked simply to go through the deliveries Alcan had made over the previous three months and say what they would have made of them.
The loads had varied from full load to perhaps eight drops on one trailer. Deliveries were made throughout the country. Sub-contractors were used for roughly 20 per cent of the traffic.
In its detailed discussion with Alcan, BRS used both the local knowledge of Mark Strong and its centralised consultancy-which has a computer model for evaluating night trunking. The recommendations from BRS, which were implemented when it took over the fleet last month, called for the fleet to be reduced to 12, and for four tractive units to be outbased — one in Glasgow, two in Manchester, and one in Bristol. Sub-contracting was to remain at its previous level.
The tractive units now in use are all new Leyland Freighter 16.23s, downplated from 32.5 to 28 tonncs to take advantage of the vehicle excise duty at that weight — just £1,090 a year (on four axles). They are on three-year contract hire in Alcan's livery, and all have day cabs.
Four of the eight units based at Banbury leave at 7pni to deliver loaded trailers to the outbased units, returning home for the day shift. Backloading is difficult, because the aluminium extrusions are loaded in special frames, called skips, which have to he returned.
The outbased units are sited at BRS depots. Glasgow, Manchester and Bristol have been chosen because of the pattern of Alcan's present customers, but another outbased vehicle may be put on at Leeds.
One of the advantages of night trunking is that schedule times are much shorter at night. For example, Manchester can he reached in three hours, half an hour less than is normal during the day, assuming a clear run. And overnight arrival of the laden trailer means that the outbased driver can make an early start to his deliveries.
BRS believes that the traffic management of the fleet is now sharper and that costs are more accurately controlled with delivery times being more closely monitored and scheduled. BRS has contract manager John Allen, formerly with SPD in Aberdeen, and assistant manager Andy Hoperoft, working full-time at Alcan.
Night work from Banbury is shared among the drivers who want to work at the night rate, and they work a rota system so that they each get a share of the short-haul and long-haul traffic. The lorries are also worked on a rota so that mileages are kept roughly equal.
The biggest problem in setting up a night trunk system of this sort is establishing locations to trunk to where the vehicle and drivers are going to be properly managed, and arranging for cover when needed.
This is clearly much less of a problem for a transport specialist with a national network such as BRS than for most own-account or haulage firms. Alcan has many sites in Britain, but the local managing director, whose main job is producing aluminium, would be unlikely to want to take responsibility for one or two drivers and their lorries from another division. At BRS, on the other hand, this is often part of the job of a branch manager.
NIGHT work seems to make sense to Alcan's Banbury division, but how are the savings made? Factors for and against are a mixture of those which would apply to any operation and those which are peculiar to Alcan.
Reducing the number of lorries needed from 20 to 12 has saved getting on for £200,000 on the investment cost of the new fleet, whether made by Alcan or BRS. And, of course, it has saved VED. Insurance costs are hardly affected, if at all.
Fixed costs are already accounted for — workshop equipment, rent and rates and so on. Alcan's Banbury works is triple shifted: trailers were already being loaded at night as well as during the day.
Driver pay rates under many haulage agreements are about one third higher for night work than for day work, where they account for about a quarter of total costs. With Alcan's operation they have not risen in that proportion, however. Alcan already had a high guaranteed earnings level.
Breakdown and tyre repair services are more expensive at night, but are seen as a small part of costs.
Drivers on the Alcan contract, not all of whom transferred from the ownaccount fleet, are generally pleased with the opportunity for additional earnings which comes from night work, although it must be said that the contract has been running only for two months.
One reservation is about icy roads in winter: "Everywhere you go from Banbury there's a hill to contend with," said one driver.
Night trunking has to be seen in the context of a range of innovations in the management of Alcan's lorries. Mark Strong and Alcan are trying to move the influence of the transport operation further up the production line, to streamline orders. At present deliveries can be made to the same premises twice in the same week — after the customer has waited six weeks!
There is a clear argument for larger drop sizes in such circumstances. Ideally, customers would take night deliveries of full loads, turning the night trunks into full-load deliveries at night. This ideal could never be reached completely, but by bringing transport more closely into the distribution side of the business, some cost savings can be made.
Operators will not be easily convinced that they should change their operation to put their lorries on night work, however attractive the idea looks in theory. Nevertheless, night movements and weekend work appear to have increased slightly over the past couple of years judging, for example, by the proportion of calls received by rescue services out of daytime hours.
BUT for traditional hauliers there seems little benefit iii night work. Typical of hauliers CM spoke to last week was Tom Llewelyn, managing director of Econofreight, the Stockton-based Transport Development Group general and heavy haulage company.
"The customer has to be willing to pay extra for running at night. The standing charge factor is relatively low in total vehicle cost terms," he said, adding that night work is easier in the own-account sector, which can regulate terminal conditions, than in hire or reward, which is subject to greater fluctuations in business.
Llewelyn refutes the idea that the cost per mile would be cheaper. The operation must be supervised, and traffic office staff must be working until the lorries have all been dispatched, he maintains. "That is if the job is going to be done properly and you are not going to cowboy it. Every night something will go wrong — it's not sod's law, it's z fact of life."
Econofreight only runs at night if requested to do so by the customer — who then pays a premium.
Night work is a false trap for hauliers, he said. Depreciation accelerates, maintenance costs increase, and they end up working harder for less money.
London haulier Southern Parcels, which runs 18 lorries, trunks overnight to the North East and Scotland. Southern's Douglas Piper commented that customer demand is what makes hauliers continue to work at night.
The trap for the haulier is to be drawn into a commitment to provide a regular trunk service without a lasting guarantee of revenue. It can be cheaper just to pay the driver not to go out some nights_ Backloads from the Newcastle area are relatively stable, but Scotland particularly can be a costly run without a backload.
But additional night work can be done at a lower cost per mile than day work if the traffic is right, Piper said. The road tax and insurance is already paid for, fuel could be cheaper if bought in larger loads, and maintenance will be less if it is done in-house, because the overheads are already accounted for. The lorries themselves become slightly more reliable, because they are subjected to fewer cold starts.
The lorries must be fairly new, though. If they are much more than three years old they simply will not stand the pace. "You can put on 3,000 miles a week with no problem whatsoever. That works out at almost half a million miles in three years," said Piper.
Night work can be made very viable, but costs go through the roof, he warned.
Echoing comments to CM from other hauliers, Piper added that customers are putting strong pressure on rates, but are demanding higher service levels then ever.
People who run tippers are in no doubt about running lorries at night as well as during the day. "If you've got the work, that's how all motors should be worked," said Ayrshire haulier Jimmy Yuill, whose tipper convoys worked round the clock for the Central Electricity Generating Board. But you have to get geared up for it, with night shift fitters and staff, he advised.
Very few tipper hauliers run at night though, -commented Derbyshire haulier Roger Hobby, who is chairman of the Road Haulage Association's tipping group. There is little demand from customers.
"in the short term you can do all sorts of things if you are lucky. ",But night work is socially unpopular and once the nights start to draw in, with snow and cold, night work becomes less and less attractive.
"There are tnore things to go wrong with a tipper than a tractive unit. When something goes wrong at two am, someone has got to get out of bed, go down to the garage and sort it out. Three-year-old wagons are too old!
"The magnitude of planning is far, far greater than for day-time work," Hobby added. There is always the risk of having a driver turn up in the morning, but having no lorry to drive because of a night-time delay.
The last time Hobby had a lorry running regularly at night was on a contract, several years ago. But he still advocates night work: "The only way to make money is to double shift. If it is organised properly the gains can be very, very real."
THE attraction of night trunking depends very much on individual circumstances and priorities. Most obviously, lorries have to be regarded wholly as a company tool rather than an individual driver's home from home. That in itself will put off some operators:
The cost structure of companies will vary according to the vehicles they run, their premises, maintenance arrangements and so on. Good drivers need to be available.
Much depends, as always, on knowing exactly what the company's operating costs are, and judging that against the available rates. For many smaller operations, there will be a strain on management time and resources which must be taken fully into account.
Management often has to be much more sophisticated — BRS Midlands won its contract with Alcan on the promise of better and more detailed management information.
BRS also benefitted from looking at transport not in isolation but from the point of view of Alcan's overall distribution needs and pattern of working.
On any long-distance trunking, it is vital that the receiving partner, whether within the same company or outside it, is committed to the traffic. Working most strongly against night work is that Britain generally is not geared up for it — usually to receive the goods, often to dispatch them as well.
For most hauliers, the reward for double shifting is in practice rarely worthwhile. But there seems little doubt that, when properly organised, night working is effective in reducing costs and raising profits.