PLEASE HELP
28th September 1985
Page 34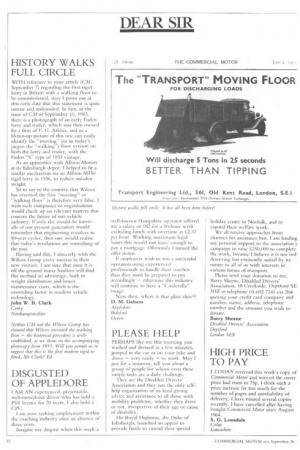 Page 34, 28th September 1985 —
PLEASE HELP
Close
PERHAPS like me this morning you washed and dressed in a few minutes, jumped in the car or on your bike and drove — very easily — to work. May I Just for a moment, tell you about a group of people for whom even these simple tasks are a daily challenge.
They are the Disabled Drivers' Association and they run the only selfhelp organisation of its kind giving advice and assistance to all those with mobility problems. whether they drive or not, irrespective of their age or cause of disability.
His Royal Highness, the Duke of Edinburgh, launched an appeal to provide funds to extend their special holiday centre in Norfolk, and to expand their welfare work.
We all receive approaches from charities for assistance but, A am lending nay personal support to the association's campaign to raise £150,000 to complete the work, because I believe it is not orl. deserving but eminently suited by its nature to all of us with interests in various forms of transport.
Please send your donation to me, Barry Sheene, Disabled Drivers' Association, 18 Creekside, Deptford SE: 3DZ or telephone 01-692 7141 ext 204 quoting your credit card company and number, name, address, telephone number and the amount you wish to donate.
Barry Sheene Disabled Drivers' Association Deptford London 5E8