HISTORY WALKS FULL CIRCLE
28th September 1985
Page 34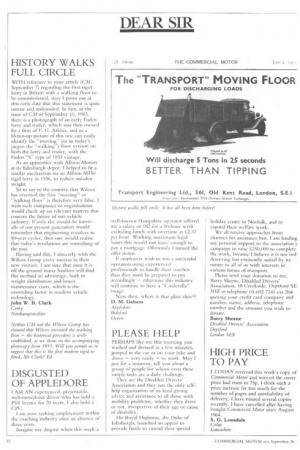 Page 34, 28th September 1985 —
HISTORY WALKS FULL CIRCLE
Close
WITH reference to your article (CM, September 7) regarding the first rigid lorry in Britain with a walking floor to be commissioned, may I point out at this early date that this statement is quite untrue and unfounded. In fact, in the issue of CM of September 10, 1983, there is a photograph of an early Eoden lorry and trailer, which was then owned by a firm of F. G. Atkins, and in a blown-up picture of tins one can easily identify the "moving" (or in today's jargon the -walking") door version on both the lorry and trailer, with the Foden "S" type of 1933 vintage.
As an apprentice with Albion Motors at its Edinburgh depot, I helped to fit a similar mechanism on an Albion M550 rigid lorry in 1936, to reduce unladen weight.
So to say to the country that Wilcox has invented the first "moving" or '`walking floor" is therefore very false. I wish such companies or organisations would check up On relevant matters that concern the future of our vehicle industry. If only the would-be knowalls of our present generation would remember that engineering revolvesin 50-year cycles, then one would realise that today's revelations are something of the past.
Having said this, I sincerely wish the Wilcox Group every success in their new venture. I am sure that once it is off the ground many hauliers will find this method an advantage, both in weight distribution and lower maintenance costs, which is the overriding factor in modern vehicle technology.
John W. B. Clark Corby Northamptonshire
Neither CM nor the Wilcox Group has claimed that Wilcox invented the walking _floor — the historical precedent is wellestablished, as we show on the accompanying photocopy .from 19.33. Will you permit us to suggest that this is the first modern rigid so fitted, Mr Clark? Ed