IN THE MODES
28th September 1985
Page 30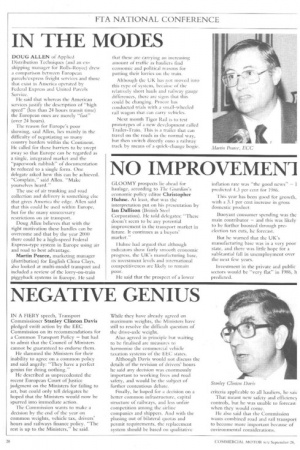 Page 30, 28th September 1985 —
IN THE MODES
Close
DOUG ALLEN of Applied Distribution Techniques (and all exshipping manager for Rolls-Royce) drew a comparison between European parcels/express freight services and those that exist in America operated by Federal Express and United Parcels Service.
He said that whereas the American services justify the description of "high speed" (less than 24 hours transit time) the European ones are merely "fast" (over 24 hours).
The reason for Europe's poor showing, said Allen, lies mainly in the difficulty of negotiating so many country borders within the Continent. He called for these barriers to be swept away so that Europe can be regarded as a single, integrated market and the "paperwork rubbish" of documentation be reduced to a single form. One. delegate asked how this can be achieved. "Complain,said Allen. "Make yourselves heard."
The use of air trunking and road collection and delivery is something else that gives America the edge. Allen said that this could be used within Europe, but for the many unnecessary restrictions on air transport.
Doug Allen believes that with the right motivation these hurdles can be overcome and that by the year 2000 there could be a high-speed Federal Express-type system in Europe using air and road to best advantage.
Martin Pearce, marketing manager (distribution) for English China Clays, also looked at multi-model transport and included a review of the lorry-on-train piggyback systems in Europe. He said
that these are carrying an increasing amount of traffic as hauliers find economic and political reasons for putting their lorries on the train.
Although the UK has not moved into this type of system, because of the relatively short hauls and railway gauge differences, there are signs that this could be changing. Procor has conducted trials with a small-wheeled rail wagon that can carry vehicles.
Next month Tiger Rail is to test prototypes of a new development called Trailer-Train. This is a trailer that can travel on the roads in the normal way, hut then switch directly onto a railway track by means of a quick-change bogie.