ENERGY DRAIN
28th September 1985
Page 28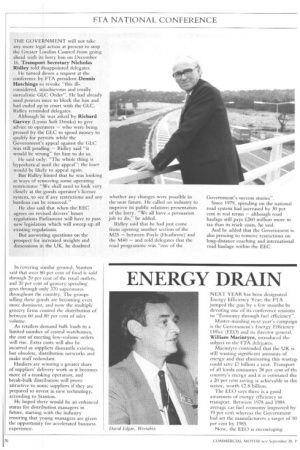 Page 29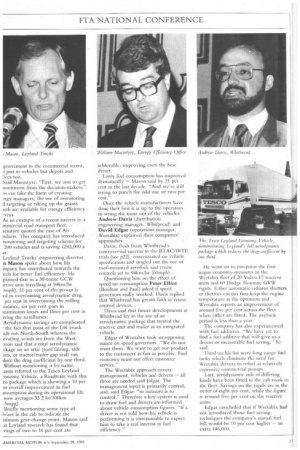 Page 28, 28th September 1985 —
ENERGY DRAIN
Close
lm covering similar ground, Stanton said that over 80 per cent of food is sold through 20 per cent of the retail outlets, and 20 per cent of grocery spending goes through only 370 superstores throughout the country. The groups selling these goods are becoming even more dominent, and now the multiple grocery firms control the distribution of between 60 and 80 per cent of sales volume.
As retailers demand bulk loads to a limited number of central warehouses, the cost of meeting low-volume orders will rise. Extra costs will also be incurred as suppliers dismantle existing, but obsolete, distribution networks and make staff redundant.
Hauliers are winning a greater share of suppliers' delivery work as it becomes more of a trunking operation, and break-bulk distribution will prove attractive to some suppliers if they are prepared to invest in new technology, according to Stanton.
He hoped there would be an enhanced status for distribution managers in future, starting with the industry ensuring that young managers are given the opportunity for accelerated business experience.
NEXT YEAR has been designated Energy Efficiency Year; the FTA jumped the gun by a few months be devoting one of its conference sessions to "Economy through fuel efficiency".
Master-minding next year's campaign is the Government's Energy Efficiency Office (EEO) and its director general, William Macintyre, introduced the subject to the FTA delegates.
Macintyre contended that the UK is still wasting significant amounts of energy and that eliminating this wastagi could save £7 billion a year. Transport of all kinds consumes 28 per cent of the country's energy and it is estimated dial a 20 per cent saving is achievable in this sector, worth £2.8 billion.
The EEO says there is a good awareness of energy efficiency in transport. Between 1978 and 1984 average car fuel economy improved by 19 per cent whereas the Government had set the manufacturers a target of 10 per cent by 1985.
Now, the EEO is encouraging provement in the commercial sector, t just in vehicles but depots and ices too.
Said Macintyre: "First, we aim to get narnitnient from thedecision-makers." iis, can take the form of creating 2rgy managers, the use of monitoring 3 targeting or taking up the grants iich are available for energy efficiency :vcys.
As an example of a recent success in a mmercial road transport fleet, acintyre quoted the case of Air oducts. This company has introduced nonitoring and targeting scheme for 200 vehicles and is saving £242,000 a ar.
Leyland Trucks engineering director n Mason spoke about how his mpany has contributed towards the itch for better fuel efficiency. He plained that in a 38-tonne GCW ictive unit travelling at 94km/hr )mph), 51 per cent of the power is ed in overcoming aerodynamic drag, per cent in overcoming the rolling sistance, six per cent goes in
insmission losses and three per cent in iving the auxilliaries.
Aerodynamic savings are complicated
• the fact that most of the UK trunk ads run North-South whereas the evailing winds are from the West. ason. said that a total aerodynamic &age on an attic (roof fairing, side irts, or tractor/trailer gap seal) can duce the drag coefficient by one third. Without mentioning it by name, .ason referred to the Tesco Leyland ;onomy Vehicle, a Roadtrain with this ro package which is showing a 10 per nt overall improvement in fuel onsumption during its operational life. now averages 33.2 lit/100km .5mpg).
Briefly mentioning some type of lviser in the cab to indicate the atimum gear-change point, Mason said at Leyland research has found that vings of two to 16 per cent are achievable, improving even the best driver.
Lorry fuel consumption has improved dramatically — Mason said by 31 per cent in the last decade. "And we're still trying to punch the odd one or two per cent." •
Once the vehicle manufacturers have done their best it is up to the operators to wring the most out of the vehicles. Andrew Davis (distribution engineering -manager, Whitbread) and David Edgar (operations manager, . Weetabix) exPlained their companies' approaches. •
Davis, fresh from Whitbread's controversial success in the BTAC/IRTE trials (see p22), concentrated on vehicle specification and singled out the use of roof-mounted aerofoils and cruise controls set to 94kin/hr (60mph).
Questioning him on the effect of speed on consumption Peter Elliot (Boulton and Paul) asked if speed governors really worked. Davis replied that Whitbread has greath faith in cruise control devices.
Davis said that future developments at Whitbread lay in the use of an aerodynamic package that treated the tractive unit and trailer as an integrated vehicle.
Edgar of Weetabix took an opposing stance on speed governOrs. "We do not want them. We want to get our product to the customers as fast as possible. Fuel economy must not effect customer service."
The Weetabix approach covers management, vehicles and drivers — all three are needed said Edgar. The management input is primarily control, and, said Edgar: "to measure is to control." Therefore a key system is used to draw fuel and drivers areinformed about vehicle consumption figures. "If a driver is not told how his vehicle is performing it is unreasonable to expect him to take a real interest in fuel efficiency." He went on to pin-point the four major economy measures in the Weetabix fleet of 20 Volvo F7 tractive units and 60 Dodge 16-tonne GVW rigids. Either automatic radiator shutters or thermo-viscous fans keep the engine temperature at the optimum and Weetabix reports an improvement of around five per cent across the fleet when either are fitted. The payback period is less than a year.
The company has also experimented with fuel additives. "We have yet to • find a fuel additive that will give us a decent or measurable fuel saving," hesaid.
Third on his list were long range fuel tanks which eliminate the need for Weetabix drivers to refuel at relatively expensive commercial pumps.
Last, aerodynamic aids of differing kinds have been fitted to the cab roofs in the fleet. Savings on the rigids are in the order of eight per cent, while the figure is around Five per cent on the tractive units.
Edgar concluded that if Weetabix had not introduced those fuel saving techniques the company's annual fuel bill would he 10 per cent higher — an extra £46,000.