THE FUTURE MAPPED OUT
28th September 1985
Page 27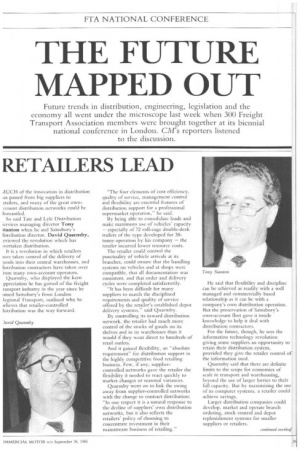 Page 28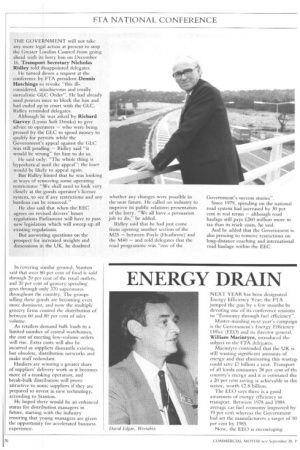 Page 27, 28th September 1985 —
THE FUTURE MAPPED OUT
Close
Keywords :
Business
,
Supply Chain Management
,
Marketing
,
Logistics
,
Management
,
Sainsbury
,
Sainsbury's
,
Distribution
,
Supply Chain
,
Greater London Council
,
Warehouse
,
Supermarket
,
Business / Finance
Future trends in distribution, engineering, legislation and the economy all went under the microscope last week when 300 Freight Transport Association members were brought together at its biennial national conference in London. CM's reporters listened to the discussion.
RETAILERS LEAD
./ILICH of the innovation in distribution tas passed from big suppliers to etailers, and many of the great ownccount distribution networks could be lismantled.
So said Tate and Lyle Distribution ;ervices managing director Tony itanton when he and Sainsbury's listribution director, David Quarmby, eviewed the revolution which has ofertaken distribution.
It is a revolution in which retailers lave taken control of the delivery of ;oods into their central warehouses, and listribution contractors have taken over 'tom many own-account operators.
Quarmby, who displayed the keen ppreciation he has gained of the freight ransport industry in the year since he oined Sainsbury's from London tegional Transport, outlined why he )elieves that retailer-controlled listribution was the way forward. "The four elements of cost efficiency, quality of service, management control and flexibility are essential features of distribution support for a professional supermarket operation," he said.
By being able to consolidate loads and make maximum use of vehicles' capacity — especially of 72 roll-cage double-deck trailers of the type developed for 38tonne operation by his company — the retailer incurred lower resource costs.
The retailer could control the punctuality of vehicle arrivals at its branches, could ensure that the handling systems on vehicles and at shops were compatible, that all documentation was consistent, and that order and delivery cycles were completed satisfactorily.
"It has been difficult for many suppliers to match the disciplined requirements and quality of service offered by the retailer's established depot delivery systems," said Quarrnby.
By controlling its inward distribution network, the retailer had much more control of the stocks of goods on its shelves and in its warehouses than it would if they went direct to hundreds of retail outlets.
And it gained flexibility, an "absolute requirement" for distribution support in the highly competitive food retailing business. Few, if any, suppliercontrolled networks gave the retailer the flexibility it needed to react quickly to market changes or seasonal variances.
Quarmby went on to link the swing away from supplier-controlled networks with the change to contract distribution: "In one respect it is a natural response to the decline of suppliers' own distribution networks, but it also reflects the retailers' policy of choosing to concentrate investment in their mainstream business of retailing." He said that flexibility and discipline can be achieved as readily with a well managed and commercially based relationship as it can be with a company's own distribution operation. But the preservation of Sainsbury's own-account fleet gave it inside knowledge to help it deal with distribution contractors.
For the future, though, he sees the information technology revolution giving some suppliers an opportunity to retain their distribution system, provided they give the retailer control of the information used.
Quarmby said that there are definite limits to the scope for economies of scale in transport and warehousing, beyond the use of larger lorries to their full capacity. But by maximising the use of its computer systems, a retailer could achieve savings.
Larger distribution companies could develop, market and operate branch ordering, stock control and depot replenishment systems for smaller suppliers or retailers.
TVIE GOVERNMENT will not take any ITIOTC legal action at present In stop the Greater London Council from going ahead with AS lorry ban on December 16, Transport Secretary Nicholas Ridley told disappointed delegates.
He turned down a request at the conference by FTA president Dennis Hutchings to revoke "this
ill considered, Mischievous and totally unrealistic GLC Order". He had already used powers once to block the ban and had ended up in court with the GLC, Ridley reminded delegates.
Although he was asked by Richard Garvey (Lyons Soft Drinks) to give advice to operators — who were being pressed by the GLC to spend money to qualify for permits while the Government's appeal against the GLC was still pending — Ridley said "it would be wrong" for him to do so.
He said only: "The Whole thing is hypothetical until the appeal": the loser would be likely to appeal again.
Rut Ridley hinted that he was looking at ways of removing some operating restrictions: "We shall need to look very , closely at the 'goods operator's licence system, to see if any restrictions and any burdens can be removed."
He also said that when the EEC agrees on revised drivers' hours regulations Parliament will have to pass new legislation which will sweep up all existing regulations.
But answering questions on the prospect for increased weights and dimensions in the UK, he doubted
whether any changes were possible in the near future. He called on industry to improve its public relations presentation of the lorry. "We all have a persuasion job to do," he added.
Ridley said that he had just come from opening another section of the M25 — between Poyle (Heathrow) and the M40 — and told delegates that the road programme was -one of the
Government's success stories".
Since 1979, spending on the national road system had increased by 30 per cent in real terms — although road haulage still pays £260 million more in tax than its track costs, he said.
And he added that the Government is also pressing to remove restrictions on long-distance coaching and international road haulage within the EEC.