Micro gearshift helper
28th September 1985
Page 20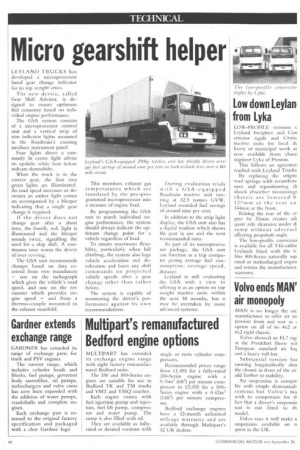 Page 20, 28th September 1985 —
Micro gearshift helper
Close
LEYLAND TRUCKS has developed a microprocessor based gear change indicator for its top weight artics.
The new device, called Gear Shift Advisor, is designed to ensure optimum fuel economy based on individual engine performance.
The GSA system consists of a microprocessor control unit and a vertical strip of nine indicator lights mounted in the Roadtrain's existing auxiliary instrument panel.
Four lights above a constantly lit centre light advise on upshiCts while four below indicate downshifts.
When the truck is in the correct gear, the first two green lights are illuminated. As road speed increases or dccreases an amber light comes on accompanied by a bleeper indicating that a single gear change is required.
If the driver does not change gear after a short time, the fourth, red, light is illuminated and the bleeper sounds twice, signalling the need for a skip shift. A continuous tone warns the driver of over revving, The GSA unit recommends changes based on data received from two transducers — one on the tachograph which gives the vehicle's road speed, and one on the rev counter which provides engine speed — and from a thermo-couple mounted in the exhaust manifold. This monitors exhaust gas temperatures which are translated by the pre-programmed microprocessor into a measure of engine load.
By programming the GSA unit to match individual engine performance, the system should always indicate the optimum change point for a vehicle regardless of load.
To ensure maximum flexibility, particularly when hill climbing, the system also logs vehicle acceleration and deceleration and bases any shift commands on projected vehicle speeds after a gear change other than rather before.
The system is capable of monitoring the driver's performance against its own recommendations. During evaluation trials with a GSA-equipped Roadtrain tractive unit running at 32.5 tonnes GVW, Leyland recorded fuel savings of around nine per cent.
In addition to the strip light display, the GSA unit also has a digital readout which shows the gear in use and the next recommended ratio.
As part of its microprocessor package, the GSA unit can function as a trip computer giving average fuel consumption, average speed, distance.
Leyland is still evaluating the GSA with i view to offering it as an option on top weight tractive units within the next 18 months, but it may be overtaken by more advanced systems.