Low down Leylani from lyka
28th September 1985
Page 20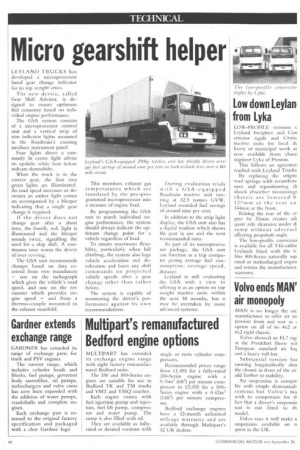 Page 20, 28th September 1985 —
Low down Leylani from lyka
Close
LOW-PROFILE versions c Leyland Freighter and Con structor rigids and Cruise tractive units for local dc livery or municipal work at now available from chassi engineer Lyka of Preston.
This follows an agreemer reached with Leyland Trucks By replacing the origin, road springs with recambere .ones and repositioning di shock absorber mounting chassis are lowered h 12 7mm at the rear an 144min at the front.
Raising the rear of the em gine by 51min creates ad( quate axle clearance under th sump without adversel affecting propshaft angle.
The low-profile conversio is available for all T45-cabbe Leylands fitted with the 6. litre 400-Series naturally asp rated or turbocharged engin( and retains the manufacturer warranty.