BCC boss hits out at agents
28th September 1985
Page 16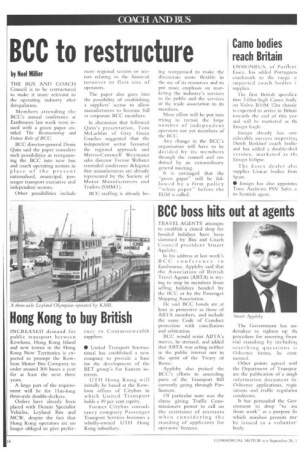 Page 16, 28th September 1985 —
BCC boss hits out at agents
Close
TRAVEL AGENTS' attempts to establish a closed shop for bonded holidays have been slammed by Bus and Coach Council president Stuart Appleby.
In his address at last week's BCC conference in Eastbourne, Appleby said that the Association of British Travel Agents (ABTA) is trying to stop its members from selling holidays bonded by the BCC or by the Passenger Shipping Association.
He said BCC bonds are at least as protective as those of ABTA members, and include the same Code of Conduct protection with conciliation and arbitration.
BCC would resist ABTA's moves, he stressed, and added that ABTA was acting neither in the public interest nor in the spirit of the Treaty of Rome.
Appleby also praised the BCC's efforts in amending parts of the Transport Bill currently going through Parliament.
Of particular note was the clause giving Traffic Commissioners power to call on the assistance of assessors when considering the standing of applicants for operators' licences.
The Government has undertaken to tighten up tht procedure for assessing financial standing by including searching questions it 0-licence forms, he corn. 'hunted.
Other points agreed wit' the Department of Transpor are the publication of a singb in document fo 0-licence applications, regis. rations and traffic regulatim conditions.
It has persuaded the Gov. CrilItient to drop ''to an ( from work" as a purpose fo which minibus permits ma' be issued to a voluntar. body.