Woodchip contract calls for 'biggest ever' tipper
28th September 1985
Page 15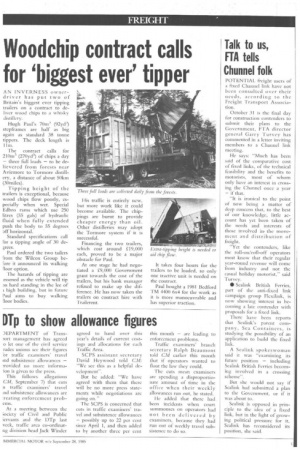 Page 15, 28th September 1985 —
Woodchip contract calls for 'biggest ever' tipper
Close
AN INVERNESS ownerdriver has put two of Britain's biggest ever tipping trailers on a contract to deliver wood chips to a whisky distillery.
Hugh Paul's 70ins (92ydi) stepframes are half as big again as standard 38 tonne tippers. The deck length is llm.
The contract calls for 2101/13 (270yd3) of chips a day — three full loads — to be delievered from forests near Aviemorc to Tormore distillery, a distance of about 50km (30miles).
Tipping height of the trailers is exceptional, because wood chips flow poorly, especially when wet. Special Edbro rams which use 250 litres (55 gals) of hydraulic fluid when fully extended push the body to 55 degrees aff horizontal.
Standard specifications call For a tipping angle of 30 degrees.
Paul ordered the two oilers Elom the Wilcox Group be'ore it announced its walking loor option.
The hazards of tipping are .essened as the vehicle will tip m hard standing in the lee of high building, but in future Paul aims to buy walking loot bodies. His traffic is entirely new, but more work like it could become available. The chippings are burnt to provide cheaper energy than oil. Other distilleries may adopt the Tormore system if it is successful.
Financing the two trailers, which cost around £19,000 each, proved to be a major obstacle for Paul.
At one stage he had negotiated a 0,000 Government grant towards the cost of the trailers, but his bank manager refused to make up the difference. He has now taken the trailers on contract hire with Trailerent. It takes four hours for the trailers to be loaded, so only one tractive unit is needed on the contract.
Paul bought a 1981 Bedford TM 4400 6x4 for the work as it is more manoeuvrable and has superior traction.