Dip to show allowance figures
28th September 1985
Page 15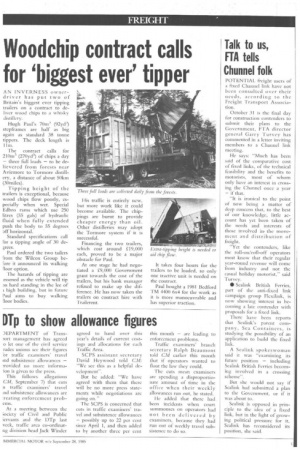 Page 15, 28th September 1985 —
Dip to show allowance figures
Close
DEPARTMENT of Trans)ort management has agreed o let one of the civil service racks unions see their figures Or traffic examiners' travel ind subsistence allowances — rovided no more informaion is given to the press.
This follows allegations CM, September 7) that cuts n traffic examiners' travel .nd subsistence allowances are 7reating enforcement probems.
At a meeting between the ;ociety of Civil and Public ;ervants and the DTp last veek, traffic area co-ordinatng division head Jack Winder agreed to hand over this year's details of current costings and allocations for each Traffic Area.
SCPS assistant secretary David Heywood told CM: "We see this as a helpful development".
But he added: "We have agreed with them that there will be no more press statements while negotiations are going on."
The SCPS is concerned that cuts in traffic examiners' travel and subsistence allowances — possibly up to 22 per cent since April 1, and then added to by another three per cent this month — are leading to enforcement problems.
Traffic examiners' branch secretary Ralph Beaumont told CM earlier this month that if operators wanted to flout the law they could.
'['he cuts mean examiners are spending a disproportionate amount of time in the office when their weekly allowances run out, he stated.
He added that there had been incidents when court summonses on operators had not been delivered by examiners, because they had run out of weekly travel subsistence to do so.