MP calls for action in Carter crash case
28th September 1985
Page 14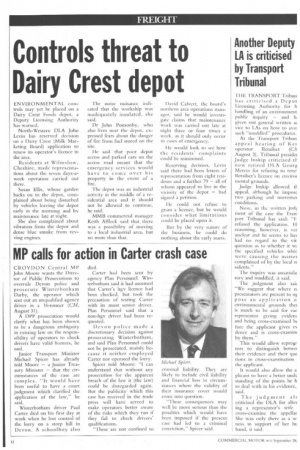 Page 14, 28th September 1985 —
MP calls for action in Carter crash case
Close
CROYDON Central MP John Moore wants the Director of Public Prosecutions to overrule Devon police and prosecute Winterbotharn Darby, the operator which sent out an unqualified agency driver in a 16-tormer (CM, August 31).
A DPP prosecution would clarify what has been shown to be a dangerous ambiguity in existing law on the responsibility of operators to check drivers have valid licences, he said.
Junior Transport Minister Michael Spicer has already told Moore — a Junior Treasury Minister — that the circumstances of the case are complex. "It would have been useful to have a court judgment which clarified the application of the law," he said.
Winterbotham driver Paul Carter died on his first day at work when he lost control of the lorry on a steep hill in Devon. A schoolboy also died.
Carter had been sent by agency Plan Personnel. Winterbotham said it had assumed that Carter's lag,v licence had been checked, but took the precaution of testing Carter with its most senior driver. Plan Personnel said that a non-hgv driver had been requested.
Devon police made a discretionary decision against prosecuting Winterbotham, and said Plan Personnel could not be prosecuted, mainly because it neither employed Carter nor operated the lorry.
Spicer told Moore: "I can understand that without any prosecution for the apparent breach of the law it (the law) could be disregarded again. But the publicity which this case has received in the trade press will have served to make operators better aware of the risks which they run if they fail to check drivers' qualifications.
"These are not confined to
criminal liability. They are likely to include civil liability and financial loss in circumstances where the validity of their insurance cover would come into question.
"These consequences may well be more serious than the penalties which would have been imposed if the present case had led to a criminal conviction," Spicer said.