Controls threat to Dairy Crest depot
28th September 1985
Page 14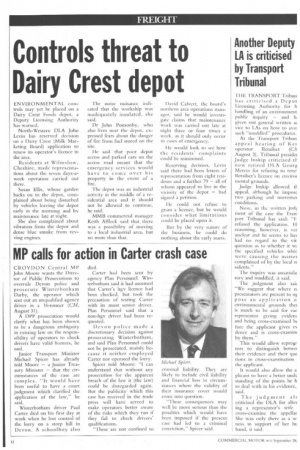 Page 14, 28th September 1985 —
Controls threat to Dairy Crest depot
Close
Keywords :
ENVIRONMENTAL controls may yet be placed on a Dairy Crest Foods depot, a Deputy Licensing Authority has warned.
North-Western DLA John Levin has reserved decision on a Dairy Crest (Milk Marketing Board) application to renew its operator's licence in the area.
Residents at Wilnislow, Cheshire, made representations about the seven days-aweek operation carried out there.
Susan Ellis, whose garden backs on to the depot, complained about being disturbed by vehicles leaving the depot early in the morning and by maintenance late at night.
She also complained about vibration from the depot and dense blue smoke from revving engines.
The noise nuisance indicated chat the workship was inadequately insulated, she said Dr John Ponsonby, who also lives near the depot, expressed fears about the danger of fire from fuel stored on the site.
lie said that poor depot access and parked cars on the access road meant that the emergency services would have to come over his property in the event of a fire.
The depot was an industrial activity in the middle of a residential area and it should not be allowed to continue, he said.
MMB commercial manager Keith Affleck said that there was .a possibility of moving to a local industrial area, but no more than that.
David Calvert, the board's northern area operations manager, said he would investigate claims that maintenance work was carried out late at night three or four times a week, as it should only occur in cases of emergency.
He would look to see how the residents' complaints could be minimised.
Reserving decision, Levin said there had been letters of representation from eight residents and a further 79 — all of whom appeared to live in the vicinity of the depot — had signed a petition.
He could not refuse to grant a licence, but he would consider what limitations could be placed upon it.
But by the very nature of the business, he could do nothing about the early starts.