Another Deputy LA is criticised by Transport Tribunal
28th September 1985
Page 14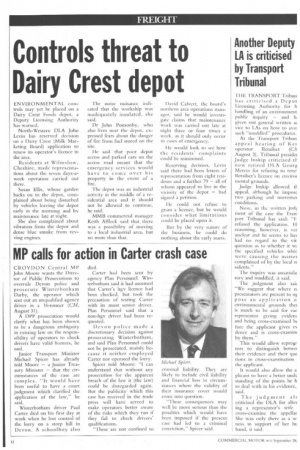 Page 14, 28th September 1985 —
Another Deputy LA is criticised by Transport Tribunal
Close
THE TRANSPORT Tribun has criticised a Depot Licensing Authority for h handling of an environment public inquiry — and II; given out general written a( vice to LAs on how to avo: such "muddled" procedures.
At the Transport Tribun appeal hearing of K.er operator Retailset (C11, August 3), Tribunal presidei Judge Inskip criticised th now retired DLA Georg Mercer for refusing to rene. Retailset's licence on enviror mental grounds.
Judge Inskip allowed tt appeal, although he impose two parking and movemei conditions.
Now, in the written jiic4 ment of the case the Trail: port Tribunal has said: "IH refused the application. H reasoning, however, is vet unclear and he seems to has had no regard to the vit. question as to whether it .s.A7 the specified vehicles whit were causing the rnattei complained of by the local rt sidents."
The inquiry was unsacisfas tory and muddled, it said.
The judgment also sait "We suggest that where rt presentators are present to al: pose an application o environmental grounds them is much to be said for eac representor giving evident and being cross-examined bc fore the applicant gives e' deuce and is cross-examim by them."
This would allow repree. tors to distinguish hetwei their evidence and their clue Lions in cross-examination the applicant.
It would also allow the a plicant to have a better uncle standing of the points he h to deal with in his evidence, said.
The judgment als criticised the DLA for alio\ ing a representor's wife cross-examine the appellar She was only there as a w. ness in support of her be band, it said.