TGWU stuck on agency issue
28th September 1985
Page 13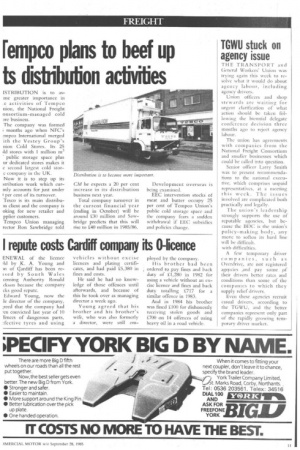 Page 13, 28th September 1985 —
TGWU stuck on agency issue
Close
Keywords :
International Transport Workers' Federation
,
International Union Of Food, Agricultural, Hotel, Restaurant, Catering, Tobacco And Allied Workers' Association
,
Transport And General Workers' Union
,
Workers' Union
,
Disaster / Accident
,
Labor
THE TRANSPORT and General Workers' Union was trying again this week to resolve what it would do about agency labour, including agency drivers.
Union officers and shop stewards are waiting for urgent clarification of what action should be taken following the biennial delegate conference decision three months ago to reject agency La bour.
The union has agreements with companies from the National Freight Consortium and smaller businesses which could be called into question.
Senior officer Larry Smith was to present recommenda tions to the national execu tive, which comprises unpaid representatives, at a meeting this week. The issues involved are complicated both practically and legally.
The union's leadership strongly supports the use of reputable agencies, but because the BDC is the union's policy-making body, any move to soften its hard line will be difficult.
with difficulties.
A few temporary driver companies, such as Overdrive, are not registered .agencies ,and pay some . of their drivers better rates and conditions than some of the companies to which they supply relief drivers.
Even these agencies recruit casual drivers, according to the TGWU, and the better companies represent only part of the rapidly growing temporary driver market.