rempco plans to beef up ts ditibution activlies
28th September 1985
Page 13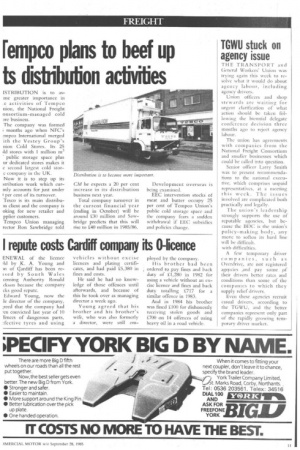 Page 13, 28th September 1985 —
rempco plans to beef up ts ditibution activlies
Close
1STRIBUTION is to asme greater importance in .c activities of Tempco nion, the National Freight onsortium-managed cold are business.
The company was formed months ago when NFC's .itipco International merged ith the Vestey Group's nion Cold Stores. Its 25
■ Id stores with 1 million n13 public storage space plus ur dedicated stores makes it e second largest cold store company in the UK.
Now it is to step up its stribution work which curntly accounts for just under I per cent of its turnover. Tesco is its main distribuan client and the company is oking for new retailer and pplier customers.
Tempco Union managing rector Ron Sawbridge told, CM he expects a 20 per cent increase in its distribution business next year.
Total company turnover in the current financial year (ending in October) will be around £30 million and Sawbridge predicts that this will rise to £40 million in 1985/86. Development overseas is being examined.
EEC intervention stocks of meat and butter occupy 25 per cent of Tcmpco Union's public cold storage space and the company fears a sudden withdrawal if EEC subsidies and policies change.