Electric Trucks Charged by Mobile Plant
28th November 1947
Page 45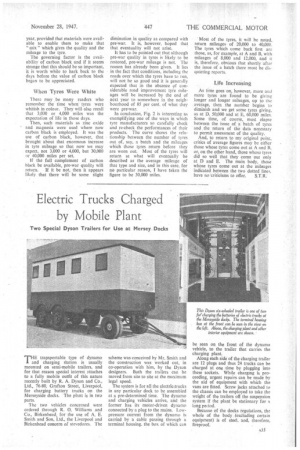 Page 45, 28th November 1947 —
Electric Trucks Charged by Mobile Plant
Close
Two Special Dyson Trailers for Use at Mersey Docks
THE trapsportable type of dynamo and charging station is usually mounted on semi-mobile trailers, and for that reason special interest attaches to a fully mobile outfit of this nature recently built by R. A. Dyson and Co., Ltd., 76-80, Grafton Street, Liverpool, for charging battery trucks on the Merseyside docks. The plant is in two parts.
The two vehicles concerned were ordered through R. 0. Williams and Co., Birkenhead, for the use of A. E. Smith and Son, Ltd., the Liverpool and Birkenhead concern of stevedores. The
scheme was conceived by Mr. Smith and the construction was worked out, in co-operation with him, by the Dyson designers. Both the trailers can be moved from site to site at the maximum legal speed.
The system is for all the electric.trucks in any particular dock to be assembled at a pre-determined time. The dynamo and charging vehicles arrive, and the former has its motor-driven dynamo connected by a plug to the mains. Lowpressure current from the dynamo is carried by a cable passing through a terminal housing. the box of which can be seen on the front of the dynamo vehicle, to the trailer that carries the charging plant.
Along each side of the charging trailer are 12 plugs and thus 24 trucks can be charged at one time by plugging into these sockets. While charging is proceeding, urgent repairs can be made by the aid of equipment with which the vans are fitted. Screw jacks attached to the chassis can be employed to take the weight of the trailers off the suspension system if the plant be stationary for a long period.
Because of the docks regulations, the whole of the body (excluding certain equipment) is of steel, and, therefore, fireproof.