AD-BORNE MIM
28th November 1947
Page 38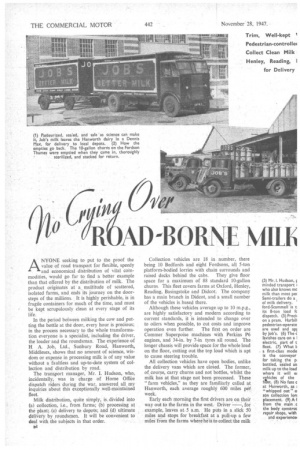 Page 40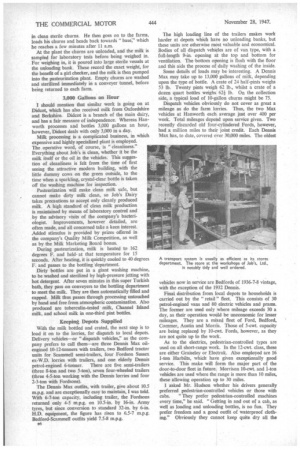 Page 43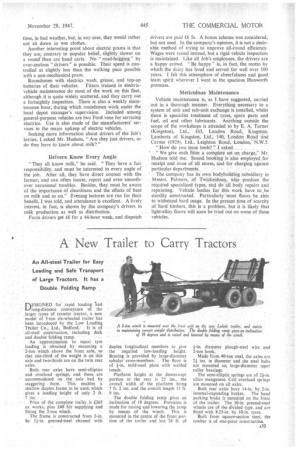 Page 38, 28th November 1947 —
AD-BORNE MIM
Close
Keywords :
Alternative Propulsion
,
Articulated Vehicles
,
Electrification
,
Dairy
,
Dairy Farming
,
Milk
,
Semi-trailer Truck
,
Delivery
,
Electric Vehicle
,
Ford Motor Company
,
Plug-in Hybrid
,
Semi-trailer
ANYONE seeking to put to the proof the value of road transport for flexible, speedy and economical distribution of vital commodities, would go far to find a better example than that offered by the distribution of milk. The product originates at a_ multitude of scattered, isolated farms, and ends its journey on the doorsteps of the millions. It is highly perishable, is in fragile containers for much of the time, and must be kept scrupulously clean at every stage of its life.
In the period between milking the cow and putting the bottle at the door, every hour is precious; in the process necessary to the whole transformation everyone is a specialist, including the driver, the loader and the roundsman. The experience of H A. Job, Ltd., Sunbury Road, Hanworth, Middlesex, shows that no amount of science, wisdom or expense in processing milk is of any value without a faultless and up-to-date system of collection and distribution by road.
The transport manager, Mr. I. Hudson, who, incidentally, was in charge of Home OffiCe dispatch riders during the war, answered all my inquiries about this exceptionally well-maintained fleet.
Milk distribution, quite simply, is divided into (a) collection, i.e., from farms; (b) processing at the plant; (c) delivery to depots; and (d) ultimate delivery by roundsmen. It will be convenient to deal with the subjects in that order.
84 Collection vehicles are 18 in number, there being 10 Bedfords and eight Fordsons, all 5-ton platform-bodied lorries with chain surrounds and raised decks behind the cabs. They give floor space for a maximum of 88 standard 10-gallon churns. This fleet covers farms at Oxford, Henley, Reading, Basingstoke and Didcot. The company has a main branch in Didcot, and a small number of the vehicles is based there.
Although these vehicles average up to 10 m.p.g., are highly satisfactory and modern according to current standards, it is intended to change over to oilers when possible, to cut costs and improve operation even further. The first on order are Commer Superpoise machines with Perkins P6 engines, and 34-in. by 7-in tyres all round. The longer chassis will provide space for the whole load on the floor, cutting out the top load which is apt to cause steering trouble.
All collection vehicles have open bodies, unlike the delivery vans which are closed. The former, of course, carry churns and not bottles, whilst the milk has at that stage not been processed. These "farm vehicles," as they are familiarly called at Hanworth, each average roughly 600 miles per week.
Early each morning the first drivers are on their way out to the farms in the west. Driver for example, leaves at 5 a.m. He puts in a slick 50 miles and stops for breakfaSt at a pull-up a few miles from the farms where he is to collect the milk
in clean sterile churns. He then goes on to the farms, loads his churns and heads back towards "base," which he reaches a few minutes after 11 a.m.
At the plant the churns are unloaded, and the milk is sampled for laboratory tests before being weighed in. For weighing in, it is poured into large sterile vessels at the unloading bank_ These record the exact weight, for the benefit of a girl checker, and the milk is then pumped into the pasteurization plant. Empty churns are washed and sterilized immediately in a conveyer tunnel, before being returned to each farm.
3,000 Gallons an Hour I should mention that similar work is going on at Didcot, which has also received milk from Oxfordshire and Berkshire. Didcot is a branch of the main dairy, and has a fair measure of independence. Whereas Hanworth processes and bottles 3,000 gallons an hour, however, Didcot deals with only 3,000 in a day.
Milk processing is a complicated business, in which expensive and highly specialized plant is employed. The operative word, of course, is "cleanliness." Everything about Job's is clean, whether it be the milk itself or the oil in the vehicles. This suggestion of cleanliness is felt from the time of first seeing the attractive modern building, with the little dummy cows on the green outside, to the time when a sparkling, crystal-clear bottle is taken off the washing machine for inspection.
Pasteurization will make clean milk safe, but cannot make dirty milk clean, so Job's Dairy takes precautions to accept only cleanly produced milk. A high standard of clean milk production is maintained by means of laboratory control and by the advisory visits of the company's bacteriologist. Improvements, however detailed, are often made, and all concerned take a keen interest. Added stimulus is provided by prizes offered in the company's Quality Milk Competition, as well as by the Milk Marketing Board bonus.
During pasteurization, milk is heated to 162 degrees F. and held • at that temperature for 15 seconds. After heating, it is quickly cooled to 40 degrees F. and passes to the bottling department.
Dirty bottles are put in a giant washing machine, to be washed and sterilized by high-pressure jetting with hot detergent After seven minutes in this super Turkish bath, they pass on conveyers to the bottling department to meet the milk. They are then automatically filled and capped. Milk thus passes through processing untouched by hand and free from atmospheric contamination. Also produced are tuberculin-tested milk, Channel Island milk, and school milk in one-third pint bottles.
Keeping Depots Supplied
With the milk bottled and crated, the next step is to load it on to the lorries, for dispatch to local depots. Delivery vehicles—or "dispatch vehicles," as the company prefers to call them—are three Dennis Max oilengined I0-12-tonners with trailers, two Bedford tractor units for Scamrnell semi-trailers, four Fordson Sussex ex-W.D. lorries with trailers, and one elderly Dennis petrol-engined 6-tonner. There are five semi-trailers (three 8-ton and two 5-ton), seven four-wheeled trailers (three 4-5-ton working with the Dennis lorries and four 2-3-ton with Fordsons), The Dennis Max outfits, with trailer, give about 10.5 m.p.g. and are exceptionally easy to maintain, I was told. With 6-7-ton capacity, including trailer, the Fordsons returned only 4-5 m.p.g. on 10.5-in. by 16-in. Army tyres, but since conversion to standard 32-in. by 6-in. H.D. equipment, the figure has risen to 6.5-7 m.p.g. Bedford-Scammell outfits yield 7.5-8 m.p.g.
o6
The high loading line of the trailers makes work harder at depots which have no unloading banks, but these units are otherwise most valuable and economical. Bodies of all dispatch vehicles are of van type, with a full-length 9-in. opening at the top and bottom for ventilation. The bottom opening is flush with the floor and this aids the process of daily washing of the inside.
Some details of loads may be interesting. A Dennis Max may take up to 13.000 gallons of milk, depending upon the type of bottle. A crate of 24 half-pints weighs 53 lb. Twenty pints weigh 62 lb., whilst a crate of a dozen quart bottles weighs 62i. lb. On the collection side, a typical load of 10-gallon churns might be 75.
Dispatch vehicles obviously do not cover as great a mileage as do the farm lorries. Thus, the two Max vehicles at Hanworth each. average just over 400 per week. Total mileages depend upon service given. Two recently discarded old four-cylindered Fords, however, had a million miles to their joint credit. Each Dennis Max has, to date, covered over 30,000 miles. The oldest vehicles now in service are Bedfords of 1936-7-8 vintage, with the exception of the 1932 Dennis.
Final distribution from local depots to households is carried out by the " retail " fleet. This consists of 30 petrol-engined vans and 80 electric vehicles and prams_ The former are used only where mileage exceeds 30 a day, as their operation would be uneconomic for lesser mileages. They are a mixed fleet of Ford, Bedford, Commer, Austin and Morris. Those of 5-cwt. capacity are being replaced by 10-cwt. Fords, however, as they are not quite up to the work.
As to the electrics, pedestrian-controlled types are used on all short-range work. In the 12-cwt. class, these are either Graiseley or Electruk. Also employed are 16 1-ton Harbilts, which have given exceptionally good service. This make will form the major part of the door-to-door fleet in future. Morrison 10-cwt. and 1-ton vehicles are used where the range is more than 10 miles, these allowing operation up to 30 miles.
I asked Mr. Hudson whether his drivers generally preferred pedestrian-controlled vehicles or those with cabs. "They prefer pedestrian-controlled machines every time," he said. "Getting in and out of a cab, as well as loading and unloading bottles, is no fun. They prefer freedom and a good outfit of waterproof clothing." Obviously they cannot keep quite dry all the time, in bad weather, but, in any case, they would rather not sit down in wet clothes.
Another interesting point about electric prams is that they are, contrary to popular belief, slightly slower on a round than are hand carts. No " road-hogging " by over-zealous " drivers " is possible. Their speed is controlled at slightly less than the walking pace possible with a non-mechanical pram.
Roundsmen with electric& wash, grease, and top-up batteries of their vehicles. Fitters trained in electric vehicle maintenance do most of the work on this fleet, although it is quite widely scattered, and they carry out a fortnightly inspection. There is also a weekly main tenance hour, during which roundsmen work under the local depot manager's supervision. Included among general-purpose vehicles are two Ford vans for servicing eleetrics. Use is also made of the manufacturers' services in the major upkeep of electric vehicles.
Seeking more information about drivers of the Job's lorries, I asked Mr. Hudson, "Are they just drivers, or do they have to know about milk?"
Drivers Know Every Angle "They all know milk," he said. "They have a fair responsibility, and must be interested in every angleof the job. After all, they have direct contact with the farmer, and can often locate, report and even smoothover occasional troubles. Besides, they must be aware of the importance of cleanliness and the effects of heat on milk and so on." Evening lectures are run for their benefit, I was told, and attendance is excellent. A lively interest, in fact, is shown by the company's drivers in milk production as well as distribution.
Farm drivers get £6 for a 44-hour week, and dispatch
drivers are paid £6 5s. A bonus scheme was considered, but not used. In the company's opinion, it is not a desirable method of trying to improve all-round efficiency. Wages were raised instead, but a rigid vehicle inspection is maintained. Like all job's employees, the drivers are a happy crowd. "Be happy" is, in fact-, the motto by which the dairy has lived and served for well over 100 years. I felt this atmosphere of cheerfulness and good team spirit wherever I went in the spacious Hanworth premises.
Meticulous Maintenance
Vehicle maintenance is, as I have suggested, carried out in a thorough manner. Everything necessary to a system of unit and sub-unit exchange is installed, whilst there is specialist treatment of tyres, spare parts and fuel,.. oil and other lubricants. Anything outside the scope of the workshops is attended to by E. A. Turner • (Kingston), Ltd., 163, London Road, Kingston; Lamberts of Kingston; Ltd., 140, London Redd and Ca rmo (1929), Ltd., Leighton Road, London,' N.W.5.
• "How do you issue tools?" I asked. , We give each fitter a complete set on charge," Mr. Hudson told me. Sound booking is also employed for receipt and issue of all stores, and for charging against particular departments. .
The company has its own bodybuilding subsidiary in MesSrS. Palmers, of Twickenham, who produce the required specialized types, and do all body repairs and repainting. Vehicle bodies for this work have to..be sturdily constructed. Particularly 'must floors be able to withstand hard usage. In the present time of scarcity • of hard timbers, this is a problem, but it is likely that light-alloy floors will soon be tried out on some of these vehicles.