A New Trailer to Carry Tractors D ESIGNED for rapid loading
28th November 1947
Page 43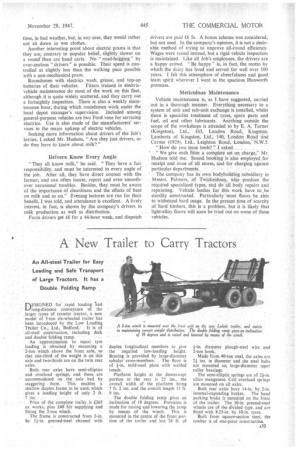 Page 43, 28th November 1947 —
A New Trailer to Carry Tractors D ESIGNED for rapid loading
Close
IA nd L./long-distance conveyance of the larger types of crawler tractor, a new model of 5-ton six-wheeled trailer has been introduced by the Low Loading Trailer Co., Ltd., Bedford. It is of 'all-steel construction, including deck and double folding ramp.
approximation to equal tyre loading is obtained by mounting a • 2-ton winch above the front axle, so that one-third of the weight is on this axle and two-thirds 'are on the twin rear axles.
Both, rear axles have semi-elliptics and overload springs, and these are
' accommodated on the axle bed by staggering them. This enables a shallow duplex frame to be used, which gives a loading height of only 2 ft.
Price of the complete trailer is p65 ex works, plus £40 for supplying and fitting the 2-ton winch.
The frame is constructed from 3-in.
by pressed-steel channel with duplex longitudinal members to give the required low-loading height. Bracing is provided by large-diameter tubular cross-members. The floor is of mild-steel plate with welded treads.
Platform height at the downswept portion at the rear is 25 ins., the overall width of the platform being 7 ft. 2 ins: and the overall length 13 ft. 9 ins.
The double folding ramp gives an inclination of 18 degrees. • Provision is made for raising and lowering the ramp by means of the winch. This is mounted in the centre of the front portion of the trailer and has 24 ft. of fin, diameter plough-steel wire and 2-ton hook.
Made from 40-ton steel, the axles are 24ins, in diameter and the steel hubs are mounted on large-diameter taper roller bearings.
The semi-elliptic springs are of 21-in. silica manganese. Coil overload springs are mounted on all axles.
Both rear axles have 14-in. by 2-in. internal-expanding brakes. The band parking brake is mounted on the front of the trailer. The 10-in pressed-steel wheels are of the .divided type, and are fitted with 8.25-in. by 10-in. tyres.
Built from square-section steel, the towbar is of one-piece construction.