HIRE CARS:• DEPUTATION TO FUEL MINISTER?
28th November 1947
Page 32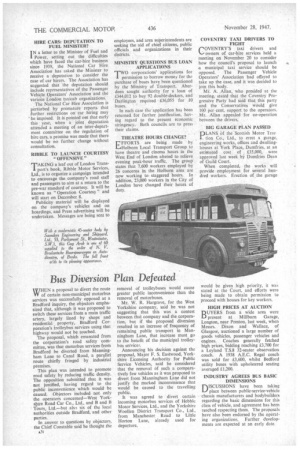 Page 32, 28th November 1947 —
HIRE CARS:• DEPUTATION TO FUEL MINISTER?
Close
Keywords :
IN a letter to the Minister of Fuel and Power, setting out the difficulties which have faced the car-hire business since 1939, the National Car Hire Association has asked the Minister to receive a deputation to consider the vase of car hirers. The Association has suggested that the deputation should include representatives of the Passenger Vehicle Operators' Association 'and the various London taxicab organizations.
The National Car Hire Association is perturbed by premature reports that further restrictions on car hiring may ' be imposed. His pointed oat that early this year, when a joint deputation attended a meeting of an inter-department committee on the regulation of hire cars, a promise was made that there would be no further change without consultation.
RIBBLE TO LAUNCH COURTESY "OFFENSIVE"
TAKING a leaf out of London Transport's book, Ribble Motor Services, Ltd., is to organize a campaign intended to encourage the company's road staff and passengers to aim at a return to the pre-war standard of courtesy. It will be known as "Operation Courtesy" and will start on December 8.
Publicity material will be displayed on the company's vehicles and on hoardings, and Press advertising will be undertaken. Messages are being sent to employees, and area superintendents are seeking the aid of chief citizens, public officials and organizations in their districts.
MINISTRY QUESTIONS BUS LOAN APPLICATIONS
Tl0 corporations' applications for permission to borrow money for the purchase of buses have been questioned by the Ministry of Transport. Aberdeen sought authority for a loan of £344,012 to buy 92 double-deckers, and Darlington required £36,055 for 10 buses.
In each case the application has been returned for further justification, having regard to the present economic stringency. Both councils are to press their claims.
THEATRE HOURS CHANGE? rFFORTS are being made by LA-lolborn Local Transport Group to have theatre and cinema hours in the West End of London altered to relieve evening peak-hour traffic. The group states that 7,600 workers employed by 26 concerns in the Holborn area are now working to staggered hours. In addition, 23,000 workers in the City of London have changed their hours of duty.
COVENTRY TAXI DRIVERS TO FIGHT
rOVENTRY'S taxi drivers and
owners of car-hire services held a meeting on November 20 to consider how the council's proposal to launch -a municipal taxi service should be opposed. The Passenger Vehicle Operators' Association had offered to take up the case, and it was decided to join this body.
Mr. A. Allan, who presided at the meeting, stated that the Coventry Progressive Party had said that this party and the Conservatives would give 100 per cent, support to the operators. Mr. Allan appealed for co-operation between the drivers.
BIG GARAGE PLAN PASSED
DLANS Of the Scottish Motor 'frac.
tion Co., Ltd., to erect a garage, engineering works, offices and dwellinghouses at York Place, Dumfries, at an estimated cost of £35,000, were approved last week by Dumfries Dean of Guild Court.
When completed, the works will provide employment for several hundred workers. Erection of the garage would be given high priority, it was stated at the Court, and efforts were being made to obtain permission to proceed with houses for key workers.
HIGH PRICES AT AUCTION
BUYERS from a wide area were present at Millburn Garage, Longton, near Preston, last week, when Messrs. Dixon and Wallace, of Glasgow, auctioned a large number of goods vehicles, passenger vehicles and engines. Coaches generally fetched high prices, bidding reaching £3,700 for a Leyland T.S.8 32-seater observation coach. A 1938 A.E.C. Regal coach was sold for £3,600, whilst Bedford utility buses with upholstered seating averaged £1,200.
INDUSTRY AGREES BUS BASIC DIMENSIONS
DISCUSS1ONS have been taking place between public-service-vehicle chassis manufacturers and bodybuilders regarding the basic dimensions for this class of vehicle, and agreement has been reached respecting them. The proposals have also been endorsed by the operating organizations. Further developments are expected at an early date.