Bus Diversion
28th November 1947
Page 32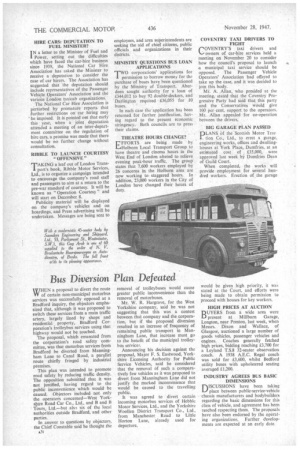 Page 32, 28th November 1947 —
Bus Diversion
Close
Plan Defeated WHEN a proposal to divert the route IT of certain non-municipal motorbus services was successfully opposed at a Bradford inquiry, the objectors emphasized that, although it was proposed to switch these services from a main traffic artery, largely lined by shops and residential property, Bradford Corporation's frolleybus services using that highway would not be touched.
The proposal, which emanated from the corporation's road safety committee, was that motorbus services from Bradford be diverted from Manningham Lane to Canal Road, a parallel route chiefly fringed by industrial premises.
This plan was intended to promote road safety by reducing traffic density. The opposition submitted that it was not justified, having regard to the public inconvenience which would be caused. Objectors included not only the operators concerned—West Yorkstnre Road Car Co., Ltd., and B and B Tours, Ltd.—but also six of the local authorities outside Bradford, and other parties.
In answer to questions by objectors, the Chief Constable said he thought the Alt removal of trolkybuses would cause greater public inconvenience than the removal of motorbuses.
Mr. W. R. Hargrave, for the West Yorkshire company, said he was not suggesting that this was a contest between that company and the corporation, but if the proposed diversion resulted in an increase of frequency of remaining public transport in Manningham Lane, that increase must go to the benefit of the municipal trolleybus service:.
Announcing his decision against the proposal, Major F. S. Eastwood, Yorkshire Licensing Authority for Public Service Vehicles, said he considered that the removal of such a comparatively few vehicles as it was proposed to divert from Manningham Lane did not justify the marked inconvenience that would be caused to the travelling public.
It was agreed to divert certain incoming motorbus services of Hebble Motor Services, Ltd., and the Yorkshire Woollen District Transport Co., Ltd., from Manchester Road to Little Horton Lane, already used for departure,