Coach Fares:. ThreePower" Inquiry I into the application of the Central
28th November 1947
Page 31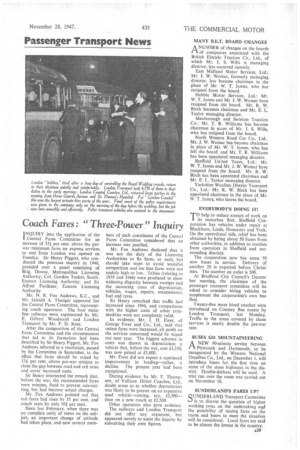 Page 31, 28th November 1947 —
Coach Fares:. ThreePower" Inquiry I into the application of the Central
Close
Fares -Committee for an increase of 33i per cent, above the prewar minimum fares on express services to and from London was opened on Tuesday. Sir Henry Piggott, who conducted the previous inquiry in 1946, presided over a panel consisting of Brig. Dowse, Metropolitan Licensing Authority; Col. Gordon Tucker, SouthEastern Licensing Authority; and Sir Alfred Faulkner, Eastern Licensing Authority.
Mr. N. R. Fox Andrews, K.C., and Mr. Gerald A. Thesiger appeared for the Central Fares Committee, representing coach operators. The four mainline railways were represented by Mr. E. Gilbert Woodward and London Transport by Mr. F. D. Rose.
After the composition of the Central Fares Committee and the circumstances that led to its formation had been described by Sir Henry Piggott, Mr. Fox Andrews referred to a resolution, passed by the Committee in September, to the effect that fares should be raised by 33-i per cent, above pre-war minima to close the gap between road and rail rates and cover increased costs.
Sir Henry interjected the remark that, before the war, the recommended fares were minima, fixed to prevent rate-cutting, but had become actual charges.
Mr. Fox Andrews pointed out that rail fares had risen by 55 per cent, and coach rates by only 161 per cent.
Since last February, when there was no complete unity of views on the subject, an important change of attitude had taken place, and now several mern
hers of each constituent of the Central Fares Committee considered that an increase was justified.
Mr. Fox Andrews declared that it was not the duty of the Licensing Authorities to fix fares, as such, but should take steps to avoid wasteful competition and see that fares were not unduly high or low. Tables (relating to 039 and 1946) were produced to show widening disparity between receipts and the mounting costs of depreciation, vehicles, wages, repairs, maintenance, fuel and tyres.
Sir Henry remarked that traffic had increased since 1946, and comparisons with the higher costs of other commodities were not completely valid.
in evidence, Mr. J. H. Ewer, of George Ewer and Co., Ltd., said that unless fares were increased, all profit on the services concerned would be wiped out next year. The biggest adyance in costs was shown in depreciation; a vehicle that, before the war, cost £1,350, was now priced at £3,400.
Mr. Ewer did not expect a cqntinued improvement in loading—rather, a decline. The present year had been exceptional.
During evidence by Mr. F. Thompsett, of Valliant Direct Coaches, Ltd., doubt arose as to whether depreciation was likely to be greater on an expensive used vehicle—costing, say, £2,500— than on a new coach at £3,500.
Other operators also gave evidence.
The railways and London Transport did not offer any argument, but appeared merely to assist the inquiry by submitting their own figures.