Technical Brains Trust Under Fire
28th November 1947
Page 30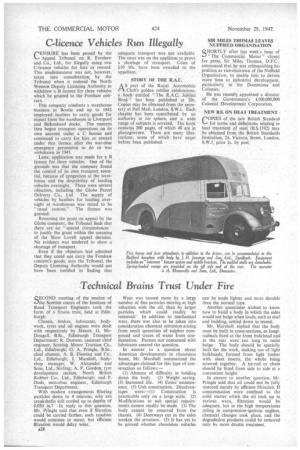 Page 30, 28th November 1947 —
Technical Brains Trust Under Fire
Close
Keywords :
QECOND meeting of the session' of .-the Scottish centre of the Institute of Road Transport •Engineers took • the form of a brains trust, held at Edinburgh.
Chassis, brakes, lubricants, bodywork, tyres and oil engines were dealt with respectively by Messrs. G. McDougall, B.Sc., Edinburgh Transport Department; R. Dawson, assistant chief engineer, Scottisi) Motor Traction Co., Ltd., Edinburgh; G. A. Pringle, B.Sc., chief chemist, A. B. Fleming and Co., Ltd., Edinburgh; J. Marshall, bodyshop manager, W. Alexander and Sons, Ltd., Stirling; A. F. Gordon, tyre development section, North British Rubber Co., Ltd., Edinburgh; and P. Dods, motorbus engineer, Edinburgh Transport Department.
With modern arrangements filtering particles down to 4 microns, why are crankshafts still corded up to depths of 0.050 in.? In reply to this question, Mr. Pringle said that even if filtration could be carried farther, such trouble's would continue to occur, but efficient filtration would delay wear.
A28
Wear was caused more by a latge number of fine particles moving at high velocities with the oil, than by larger particles which could readily be removed: In addition to mechanical wear, there was also to be taken into consideration chemical corrosion arising from small quantities. of sulphur compound and traces of water from condensation. Factors not concerned with lubricants entered the question.
In answer to a question about American developments in chassisless buses, Mr. Marshall summarized the advantages claimed for this type of construction as follows:— (1) Absence of difficulty in holding down the body. (2) Weight saving. (3) Increased life. (4) Easier maintenance. (5) Unit construction. Disadvantages were:—(1) Construction is practicable only on a large scale. (2) Modifications to suit special requirements cannot readily be made. (3) The body cannot be removed from the chassis. (4). Doorways cut in the sides weaken the structure. (5) It has yet to be pioved whether chassisless vehicles
can be made lighter and more durable than the normal type.
• Another questioner wished to know how to baild a body in which the sides would not bulge when loads, such as sisal and bedding, settled down in transit.
Mr. Marshall replied that the body must be built in cross-sections, as longitudinals fixed at the front bulkhead and at the rear were too long to resist bulge. The body should be specially built for the work, making use of light bulkheads, formed from light timber with sheet inserts, the whole being screwed together. A tie-rod or chain should be fitted from side to side at a convenient height.
In answer to , another question, Mr. Pringle said that oil could not be fully restored merely by efficient filtration. If contamination were confined to the solid matter which the oil took up in various ways, filtration would be adequate, but in the high temperatures ruling in compression-ignition engines. chemical changes 'took place, and the degradation products could be removed only by more drastic treatment.