Glicence Vehicles Run Illegally C ENSURE has been passed by the
28th November 1947
Page 30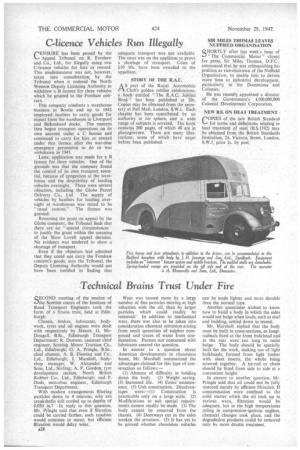 Page 30, 28th November 1947 —
Glicence Vehicles Run Illegally C ENSURE has been passed by the
Close
Appeal Tribunal on R. Forshaw and Co., Ltd., for illegally using two C-licence vehicles for hire or reward. This misdemeanour was not, however, taken into consideration, by the Tribunal when it ordered the North Western Deputy Licensing Authority to withdraw a B licence for three vehicles which he granted to the Forshaw concern.
• This company conducts a warehouse business at Bootle and up to 1942 employed hauliers to carry goods for export from the warehouse to Liverpool and Birkenhead docks. The concern then began transport operations on its own account under a C licence and continued to carry for hire or reward under that licence, after, the war-time emergency permission to do so was withdrawn in 1945.
Later, application was made for a B licence for three vehicles. One of the grounds was that the company found the control of its own transport essential, because of congestion at the warehouse and the desirability of loading vehicles overnight. There were several objectors, including the Globe Parcel Delivery Co., Ltd. The supply of vehicles by hauliers for loading overnight at warehouses was stated to be "usual custom." The licence was granted.
Reversing the grant on appeal by the Globe company, the Tribunal finds that there are' no "special circumstances' to justify the grant within the meaning of the Shaw Lovell appeal . decision. No evidence was tendered to show a shortage of transport.
Even if the objectors had admitted that they could not carry the Forshaw concern's goods, says the Tribunal. the Deputy Licensing Authority would not have been justified in finding that adequate transport was not available. The onus was on the applicant to prove a shortage of transport. Costs of £10 10s. have been awarded to the appellant.
STORY OF THE R.A.C.
AS part of the Royal Automobile Club's golden jubilee celebrations, a book entitled "The R.A.C. Jubilee BOok " has been published at 20s. Copies may be obtained from the secretary at Pall Mall, London, SW.!.'. Each chapter has been contributed by an authority in his sphere, and a wide range of subjects is covered. The book' contains 200 pages, of which 48 are in photogravure. There are many illustrations, some of which have nevr
before been published. • SIR MILES THOMAS LEAVES NUFFIELD ORGANISATION
SHORTLY after last week's issue of "The Commercial Motor" closed for press, Sir Miles Thomas, D.F.C., announced that he was relinquishing his position as vice-chairman of the Nuffield Organisation, to enable him to devote more time to industrial development, particularly in -the Dominions and Colonies.
He was recently appointed a director of the Government's £100,000,000 Colonial Development Corporation.
NEW B.S. ON HEAT TREATMENT •
COPIES of the new British Standard for terms and definitions relating to heat treatment of steel (B.S.1392) may be obtained from the British Standards Institution, 24, Victoria Street, London, .S.W,1, price 2s. by post.