SEPTEMBER REGISTRATIONS JUMP FORWARD QEPTEMBER'S new registrations, Onumbering 20,069, showed
28th November 1947
Page 29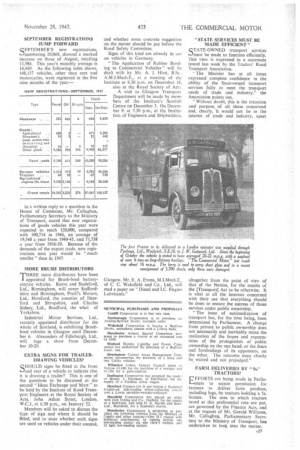 Page 29, 28th November 1947 —
SEPTEMBER REGISTRATIONS JUMP FORWARD QEPTEMBER'S new registrations, Onumbering 20,069, showed
Close
Keywords :
a marked increase on those of August, totalling 13,984. This year's monthly average is 16,460. As the following table shows. 148,137 vehicles, other than cars and motorcycles, were registered in the first nine months of the year:— In a written reply to a question in the House of Commons, Mr. Callaghan, Parliamentary Secretary to the Ministry of Transport, stated that new registrations of goods vehicles this year were expected to reach 120,000, compared with 100,714 in 1946, an average of 19,548 a year from 1940-45, and 71,738 a year from 1936-39. Because of the demands of the export trade, new registrations next year would be " much smaller" than in 1947. . • MORE BRUSH DISTRIBUTORS
THREE more distributors have been appointed for Brush-bred batteryelectric vehicles. Reeve and Stedeford, Ltd., Birmingham, will cover Staffordshire and Birmingham, Praill's Motors, Ltd., Hereford, the counties of Hereford and Shropshire, and Charles Sidney, Ltd., Bradford, the whol, of Yorkshire.
Industrial Motor Services, Ltd., recently. appointed distributor for the whole of Scotland, is exhibiting Brushbred vehicles in Glasgow until December 6. Alexanders of Edinburgh, Ltd., will tage a show from December 10-20,
EXTRA SIGNS FOR TRAILERDRAWING VEHICLES?
SHOULD signs be fitted at the front and rear of a vehicle to indicate that it is drawing a trailer? This is one of the questions to be discussed at the second "Ideas Exchange and Mart" to be held by the Institute of Road Transport Engineers at the Royal Society of Arts, John Adam Street, London, W.C.1, at 6.30 p.m., on January 22.
Members will be asked to discuss the type of sign and where it should be fitted, and to state whether such signs are used on vehicles under their control, and whether some concrete suggestion on the matter should be put before the Road Safety Committee.
Signs of this kind are already in use on vehicles in Germany.
"The Application of Rubber Bonding to Commercial Vehicles" will be dealt with by Mr. A. J. Hirst, B.Sc., A.M.I.Mech.E., at a meeting of the Institute at 6.30 p.m. on December 18, also at the Royal Society of Arts.
A visit to Glasgow Transport Department will be made by members of the Institute's Scottish Centre on December 3. On December 9, at 7.30 p.m., at the Institution of Engineers and Shipbuilders.
Glasgow, Mr. E. A. Evans, M.I.Mech.E., of C C. Wakefield and Co., Ltd., will read a paper on "Diesel and I.C, Engine Lubricants." "STATE SERVICES MUST BE MADE EFFICIENT"
STATE-OWNED transport services roust be made to function efficiently. This view is expressed in a statement issued last week by the Traders' Road Transport Association.
The Minister has at all times expressed complete confidence in the ability of the State-owned transport services fully to meet the transport needs of trade and industry," the Association points out.
"Without doubt, this is the intention and purpose, of all those concerned and, clearly, it would not be in the interest of trade and industry, apart altogether from the point of view of that of the Nation, for the results of the [Transport] Act to be otherwise. It is vital to all the interests concerned with their use that everything should be done to ensure the success of those services under public ownership.
"The issue of nationalization of transport has, for the time being, been determined by Parliament. A change from private to public ownership does not necessarily and inevitably mean the realization of the hopes and expectations of the protagonists of public ownership on the one hand, or the fears and forebodings of its opponents, on the other. The outcome must clearly be waited and not prejudged."
FARM DELIVERIES BY "Ss." TRACTORS?
EFFORTS are being made in ParliaL.atnent to secure permission for farmers to deliver farm produce, including logs, by tractors holding a 5s. licence. The uses to which tractors taxed at this preferential rate are put, are governed by the Finance Acts, and at the request of Mr. Gerald Williams. Mr. Callaghan, Parliamentary Secretary to the Ministry of Transport, has undertaken to look into the matter.