Personal Pars
28th November 1947
Page 28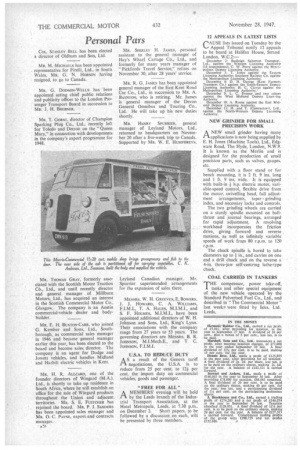 Page 28, 28th November 1947 —
Personal Pars
Close
COL, STANLEY BELL has been elected a director of Oldham and Son, Ltd.
MR. M. MICHAELS has been appointed representative for Pirelli, Ltd., in South Wales, MR. G. N. HOBSON having resigned, to go to Canada.
MR, G. DonsoN-WELLS has been appointed acting chief public relations and publicity officer to the London Passenger Transport Board in succession to MR. J. H. BREBNER, MR. T. GORST, director of Champion Sparking Plug Co., Ltd., recently left for Toledo and Detroii on the "Queen Mary," in connection with developments in the company's export programme for 1948.
MR. THOMAS GRAY, formerly associated with the Scottish Motor Traction Cb., Ltd., and until recently director and general manager of Millburn Motors, Ltd., has acquired an interest in the Scottish Commercial Motor Co., Glasgow. The company is an Austin commercial-vehicle dealer and bodybuilder.
MR. E. EL BUXTON-CARR. who joined G. Kember and Sons, Ltd., Southborough, as commercial sales manager in 1946 and became general manager earlier this year, has been elected to the board and become sales director. The company is an agent for Dodge and Jowett vehicles, and handles Midland and Harbilt electric vehicles in Kent.
MR. H. R. ALLCARD, one of the founder directors of Wingard (M.A.), Ltd., is shortly to take up residence in South Africa, where he will establish an office for the sale of Wingard products throughout the Union and adjacent territories. MR. S. E. FLETCHER has rejoined the board. MR. P. J. SANDERS has been appointed sales manager and MR. 0. C. PAYKE, export and contracts manager. MR. SHIRLEY H. JAMES, personal assistant to the general manager of Hay's Wharf Cartage Co., Ltd., and formerly for many years manager of "Pickfords Travel Service," retires on November 30, after 28 years' service.
MR. R. G. JAMES has been appointed general manager of the East Kent Road Car Co., Ltd., in succession to MR. A. BAytsrroN, who is retiring. Mr. James is general manager of the Devon General Omnibus and Touring Co., Ltd. He will take up his new duties shortly.
MR. HENRY SPURRIER, general manager of Leyland Motors, Ltd., returned to headquarters on November 20 after a five-week trip to Canada. Supported by MR. W. E. HUMPHREYS,
Leyland Canadian manager. Mr. Spurrier superintended arrangements for the expansion of sales there.
MESSRS. W. H. GREEVES, E. BOWERS, J. J, HOWARD, C. A. WILLIAMS, F,I.M.I., T. A. HALES, M.I.M.I., and S. F. Holmes, MIMI., have been appointed additional directors of W. H. Johnson and Sons, Ltd., King's Lynn. Their associations with the company range from 27 years to 53 years. The governing directors are MESSRS. B. R. JOHNSON, M.I.Mech.E., and T. C. JOHNSON, F.I.M.I.
U.S.A. TO REDUCE DUTY
AS a result of the Geneva tariff negotiations, the U.S.A. is to reduce from 25 per cent. to 124 per cent, the import duty on commercial vehicles, goods and passenger.
"FREE FOR ALL"
AMEMBERS' evening will be held by the Leeds branch of the Industrial Transport Association, at the Hotel Metropole, Leeds. at 7.30 p.m.. on December 2. ' Short papers, to be followed by a discussion on each, will be presented by three members.
Tags
People
:
STANLEY BELL
,
W. E. HUMPHREYS
,
HENRY SPURRIER
,
P. J. SANDERS
,
S. E. FLETCHER
,
R. G. JAMES
,
H. R. ALLCARD
,
T. GORST
,
M. MICHAELS
,
SHIRLEY H. JAMES
,
G. N. HOBSON
,
THOMAS GRAY
,
J. H. BREBNER