NEW .GRINDER FOR SMALL. PRECISION WORK
28th November 1947
Page 28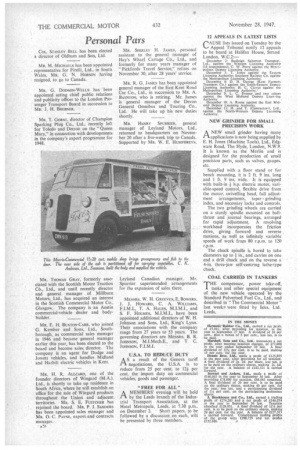 Page 28, 28th November 1947 —
NEW .GRINDER FOR SMALL. PRECISION WORK
Close
ANEW small grinder having many applications is now being supplied by E. H, Jones (Machine Tools), Ltd., Edgware Road, The Hyde, London, N.W.9. It is known as the Merlin and is designed for the production of small precision parts, such as valves, gauzes, etc.
Supplied with a floor stand or for bench mounting, it is 2 ft. 9 ins, long and 1 ft, 9 ins, wide. It is equipped with built-in h.p. electric motor, variable-speed control, flexible drive from the motor, swivelling head, full adjustment arrangements, taper grinding index, and necessary locks and controls.
The two grinding wheels are carried on a sturdy spindle mounted on ballthrust and journal bearings, arranged for rapid adjustment. A revolving workhead incorporates the friction drive, giving forward and reverse motions, as well as infinitely variable speeds of work from 80 r.p.m. to 120 r,p.m.
The chuck spindle is bored to take diameters up to t in., and carries on one end a drill chuck and on the reverse a 4-in, three-jaw self-centring lathe-type ch uck.
COAL CARRIED IN TANKERS
THE compressor, power take-off, tanks and other special equipment of the new vehicle operated by the Standard Pulverised Fuel Co., Ltd., and described in The Commercial Motor" last week PP were fitted by Isles, Ltd. Leeds.