GIVING AWAY OUR PREFERENCES
28th November 1947
Page 27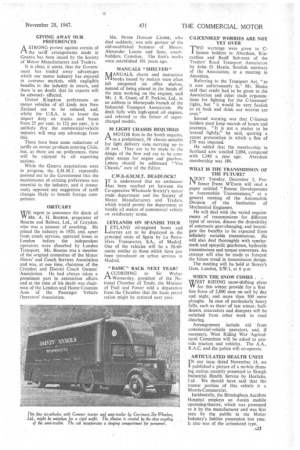 Page 27, 28th November 1947 —
GIVING AWAY OUR PREFERENCES
Close
Keywords :
A STRONG protest against certain of 1-1 the tariff arrangements made at Geneva has been issued by the Society of Motor Manufacturers and Traders.
It is clear, it states, that the Government has traded away advantages which our motor industry has enjoyed in overseas markets, with negligible benefits to the industry in return, and there is no doubt that its exports will be adversely affected.
United Kingdom preferences on motor vehicles of all kinds into New Zealand are to be reduced, and, whilst the U.S.A. is to lower the import duty on trucks and buses from 25 per cent. to 12i per cent., it is unlikely that she commercial-vehicle industry will reap any advantage from this.
There have been some reductions of tariffs on motor products entering Chile, but, as there are no preferences, these will be enjoyed by all exporting nations.
While the Geneva negotiations were in progress, the S.M.M.T. repeatedly pointed out to the Government that the maintenance of existing preferences was essential to the industry, and it strenuously opposed any suggestion of tariff changes likely to benefit foreign competitors.
OBITUARY
WE regret to announce the death of Vic MR. A. H. BOURNE, proprietor of Bourne and Balmer, Ltd., of Croydon, who 'was a pioneer of coaching. He joined the industry in 1920, and, apart from coach services, operated buses in London before the independent operators were absorbed by London Transport. Mr. Bourne was a member of the original committee of the Motor Hirers' and Coach Services Association and was, at one time, chairman of the Croydon and District Coach Owners' Association. He had always taken a prominent part in association affairs and at the time of his death was chairman of the London and Home Counties Area of the Passenger Vehicle Operators' Association. MR. PETER DUNLOP LAURIE, who died suddenly, was sole partner of the old-established business of Messrs. Alexander Laurie and Sons, coachbuilders, Camelon. The firm's works were established 101 years ago.
MANUALS "SHELVED"
MANUALS, charts and instruction books issued by makers were often left , unopened on office shelves, instead of being placed in the hands of the men working on the engines, said Mr. S. R. Guest, of F. Perkins, Ltd., in an address to Merseyside branch of the Industrial Transport Association. He dealt, fully with high-speed oil engines, and referred to the future of supercharged models.
50 LIGHT CHASSIS REQUIRED A MOTOR firm in the South requires, as a preliminary, 50 chassis suitable for light delivery vans carrying up to 10 cwt. They are to he made to the design of the firm and are to be complete except for engine and gearbox. Letters should be addressed "Van Chassis," care of the Editor,
C.W.S.-S.M.M.T. DEADLOCK? IT is understood that no settlement Ihas been reached yet between the Co-operative Wholesale Society's motor trade department and the Society of Motor Manufacturers and Tradets, which would permit the department to handle all makes of commercial vehicle on satisfactory terms.
LEYLANDS ON SPANISH TOUR
LEYLAND oil-engined buses and Lalorries are to be displayed in the principal cities of Spain by La PetroHera Transportes, S.A., of Madrid. One of the vehicles will be a 56-60seater similar to those which have just been introduced on urban services in Madrid.
"BASIC" BACK NEXT YEAR? A CCORD1NG to Sir Walter Womersley, president of the National Chamber of Trade, the Minister of Fuel and Power told a deputation from the Chamber that the basic petrol ration might be restored next year.
C-LICENSEES' WORRIES ARE NOT YET OVER
TWO warnings were given to Clicence holders in Aberdeen, Kincardine and Banff Sub-area of the Traders' Road Transport Association by John 0. Hastie, Scottish secretary of the Association, at a meeting in Aberdeen.
Referring to the Transport Act, "as it now unfortunately is," Mr. Hastie said that credit had to be given to the Association and other trade organizations for fighting for the C-licensees' *rights, but "it would be very foolish to sit back and think our worries are over."
Second warning was that C-licence holders must keep records of hours and journeys. "It is not a matter to be treated tightly," he said, quoting a recent prosecution in which a fine of £70 was imposed.
He added that the membership in Scotland now totalled 2,094, compared with 1,340 a year ago. Aberdeen membership was 184.
WHAT IS THE TRANSMISSION OF THE FUTURE?
MEXT Tuesday, December 2, Pro fessor Ewen M'Ewen will read a paper entitled "Recent Developments in Automobile Transmissions," at a general meeting of the Automobile Division of the Institution of Mechanical Engineers, He will deal with the varied requirements of transmissions for different types of service, discuss the desirability of automatic gear-changing, and investigate the benefits to be expected from infinitely variable transmissions. He will also deal thoroughly with synchomesh and epicyclic gearboxes, hydraulic transmissions and torque converters. An attempt will also be made to forecast the future trend in transmission design, The meeting will be held at Storey's Gate, London, S.W.1, at 6 p.m.
WHEN THE SNOW COMES. . WEST RIDING snow-shifting plans VV for this winter provide for a first line force of 2,000 men on call by day and night, and more than 500 snow ploughs. In case of particularly heavy falls, such as thos,... of last winter, bulldozers, excavators andslumpers will be switched from other work to road clearing.
Arrangements include aid from commercial-vehicle operators, and, if necessary, West Riding War Agricultural Committee will be asked to provide tractors and vehicles. The A.A., R.A.C. and the police will co-operate.
ARTICULATED HEALTH UNITS IN our issue dated November 14, we I published a picture of a mobile dressing station recently presented to Slough Industrial Health Service by Horlicks. Ltd. We should have said that the tractor portion of this vehicle is a Morris-Commercial.
Incidentally, the Birmingham Accident Hospital employs an Austin mobile operating-theatre, which was presented to it by the manufacturer and was first seen by the public in the Motor Industry's Jubilee procession last year. It also was of the articulated type.
Tags
Organisations
:
West Riding War Agricultural Committee
,
District Coach Owners' Association
,
Society of Motor Manufacturers
,
Automobile Division
,
Traders' Road Transport Association
,
Institution of Mechanical Engineers
,
Coach Services Association
,
Croydon
,
Birmingham Accident Hospital
,
Society of Motor Manufacturers and Traders
,
Croydon and District Coach Owners' Association
,
Co-operative Wholesale Society
,
Industrial Transport Association
,
Road Transport Association