News of the Week
28th November 1947
Page 26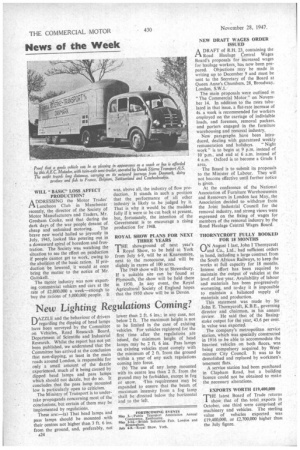 Page 26, 28th November 1947 —
News of the Week
Close
WILL "BASIC" LOSS AFFECT PRODUCTION? DDRESS1NG the Motor Trades' I-1 Luncheon Club in Manchester recently, the director of the Society of Motor Manufacturers and Traders, Mr. Gresham Cooke, said that during the dark days of the war people dreamt of
cheap and unlimited motoring. The brave new world hailed so joyously in July, 1945, looked like petering out in a downward spiral of boredom and frustration. The Society was watching the situation to see the effect on ppoduction if people cannot get to work, owing to the abolition of the basic ration. If production be lowered, it would at once bring the matter to the notice of Mr. Gaitskell.
The motor industry was now exporting commercial vehices and cars at the rate of £2,000,000 a week—enough to buy the rations of 5,000,000 people. It was, above all, the industry of flow production. It stands in such a position that the performance of all other industry is likely to be judged by it. That is why it would be the maddest folly if it were to be cut back at present, but, fortunately, the intention of the Government is to encourage a rising production for 1948.
ROYAL SHOW PLANS FOR NEXT THREE YEARS THE showground of next year's Royal Show, to be held at York from July 6-9, will be at Knavesmire, next to the racecourse, and will be slightly in excess of 100 acres.
The 1949 show will be at Shrewsbury. If a suitable site can be found at Plymouth, the show will be held there in 1950. In any event, the Royal Agricultural Society of England hopes that the 1950 show will be in Devon.
NEW DRAFT WAGES ORDER ISSUED A DRAFT of R.H. 23, containing the 1-1 Road Haulage Central Wages Board's proposals for increased wages for haulage workers, has now been prepared. Objections may be made in writing up to December 9 and must be sent to the Secretary of the Board at Queen Anne's Chambers, 28, Broadway, London, S.W.1.
The main proposals were outlined in "The Commercial Motor" on November 14. In addition to the rates tabulated in that issue, a flat-rate increase of 4s. a week is recommended for workers employed on the carriage of indivisible loads, and foremen, removal packers, and porters engaged in the furniture warehousing and removal industry.
New paragraphs have been introduced, dealing with guaranteed weekly
remuneration and holidays. "Night work" is to begin at 9 p.m. instead of 10 p.m., and end at 6 am, instead of 4 a.m. Oxford is to become a Grade I area.
The Board is to submit its proposals to the Minister of Labour. They will not become effective until further notice is given.
At the conference of the National Association of Furniture Warehousemen and Removers in London last May, the Association decided to withdraw from the Joint Industrial Council for the removal industry, and strong views were expressed on the fixing of wages for members of the removal industry by the Road Haulage Central Wages Board.
THORNYCROFT FULLY BOOKED FOR 18 MONTHS nN August 1 last, John I Thornycrott \--land Co., Ltd., had sufficient. orders in hand, including a large contract from the South African Railways, to keep the works at full capacity for 18 months. Intense effort has been required to maintain the output of vehicles at the level of last year. Availability of labour and materials has been progressively worsening, and to-day it is impossible to maintain a balanced supply of materials and production.
This statement was made by Sir John E. Thornycroft, KR.E., governing director and chairman, in his annual review. He said that of the Basingstoke output for the year, 43.6 per cent.
in value was exported. • 1.• The company's metropolitan service station, which was specially constructed in 1916 to be able to accommodate the heaviest vehicles on both 'floors, was being compulsory acquired. by Westminster City Council. It was to be demolished and replaced by workmen's tenement flats, A service station had been purchased in Clapham Road, but a building licence could not be obtained to male the necessary alterations.
EXPORTS WORTH £19,400,000 THE latest Board of Trade returns show that of the total exports in October, one third were comprised of machinery and vehicles. The sterling value of vehicles exported was 119,400,000, or £2,700,000 higher than the July figure.