One Hears
28th November 1947
Page 25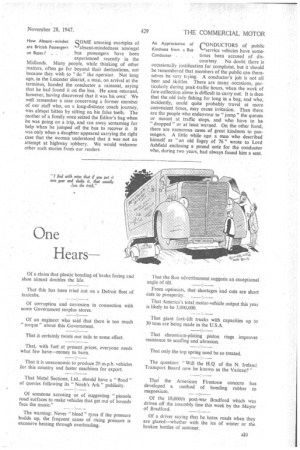 Page 25, 28th November 1947 —
One Hears
Close
Of a claim that plastic bonding of brake facing and shoe almost doubles the life.
That this has been tried out on a Detroit fleet of taxicabs.
Of corruption and corrosion in connection with some Government surplus stores.
Of an engineer who said that there is too much "torque" about this Government.
That it certainly twists our tails to some effect.
That, with fuel at present prices, everyone needs what few have—money to burn.
That it is uneconomic to produce 20 m.p.h. vehicles for this country and faster machines for export.
That Metal Sections, Ltd., should have a " flood " of queries following its "Noah's Ark" publicity.
Of someone accusing us of "suggesting " pianola road surfaces to make vehicles that get out of bounds face the music."
The warning: Never " bleed " tyres if the pressure builds up, the frequent cause of rising pressure is excessive heating through overloading. That the Roe advertisement suggests an exceptional angle of tilt.
From optimists, that shortages 'and cuts are short cuts to prosperity.
That America's total motor-vehicle output this year is likely to be 5,000,000.
That giant fork-lift trucks with capacities up to 30 tons are being made in the U.S.A.
That chromium-plating piston rings improves resistance to scuffing and abrasion.
That only the top spring need be so treated.
The question: "Will the H.Q.of the N. Ireland Transport Board now be known as the Vatican?"
That the American Firestone concern has developed a method of bonding rubber to magnesium.
Of the 10,000th post-war Bradford which was driven off the assembly line this week by the Mayor of Bradford.
Of a driver saying that he hates roads when they are glazed—whether with the ice of winter or the broken bottles of summer.