Passing Comments
28th November 1947
Page 24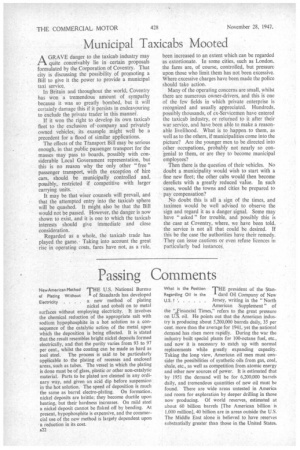 Page 25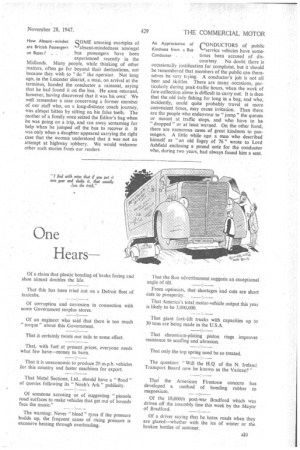 Page 24, 28th November 1947 —
Passing Comments
Close
NewAmerican Method THE U.S. National Bureau
ef Plating Without of Standards has developed Electricity . . . . a new method of plating
nickel and cobalt on to metal surfaces without employing electricity. It involves the chemical reduction of the appropriate salt with sodium hypophosphite in a hot solution as a consequence of the catalytic action of the metal upon which the deposition is being effected. It is stated that the result resembles bright nickel deposits formed electrically, and that the purity varies from 93 to 97 per cent., whilst the coating can be made as hard as
tool steel. The process is said to be particularly applicable to the plating of recesses and enclosed areas, such as tubes. The vessel in which the plating is done must be of glass, plastic or other non-catalytic material. Parts to be plated are cleaned in any ordinary way, and given an acid dip before suspension in the hot solution. The speed of deposition is much the same as barrel electro-plating. On formation, nickel deposits are brittle; they become ductile upon heating, but their hardness increases. On mild steel a nickel deposit cannot be flaked off by bending. At present, hypophosphite is expensive, and the commercial use of the new method is largely dependent upon a reduction in its cost.
A22
What Is the Position 'T" president of the Stan Regarding Oil in the dard Oil Company of New
U.S. ' Jersey, writing in the "North
American Supplement" of the "financial Times," refers to the great pressure on U.S. oil. He points out that the American industry is producing about 5,200,000 barrels daily, 35 per cent. more than the average for 1941, yet the national demand has risen more rapidly. During the war the industry built special plants for 100-octane fuel, etc., and now it is necessary to catch up with normal replacements while greatly expanding capacity. Taking the long view. American oil men must conskier the possibilities of synthetic oils from gas, coal, shale, etc., as well as competition from atomic energy and other new sources of power. It is estimated that by 1951 the demand will be for 6,200,000 barrels daily, and tremendous quantities of new oil must be found. There are wide areas untested in America and room for exploration by deeper drilling in those now producing. Of world reserves, estimated at about 60 billion barrels [The American billion is 1,000 million], 40 billion are in areas outside the U.S. The Middle East alone is believed to have reserves substantially greater than those in the United States. SOME amusing examples of absent-mindedness amongst bus passengers have been experienced recently in the Midlands. Many people, while thinking of other matters, often go far beyond their destinations, not because they wish to " do " the operator. Not long ago, in the Leicester district, a man, on arrival at the terminus, handed the conductor a raincoat, saying that he had found it on the bus. He soon returned, however, having discovered that it was his own: We well remember a case concerning a former member of our staff who, on a long-distance coach journey, was almost bitten by sitting on his false teeth. The mother of a family once seized the Editor's bag when he was going on a trip, and ran away screaming for help when he jumped off the bus to recover it. It was only when a daughter appeared carrying the right case that the woman understood that it was not an attempt at highway rpbbery. We would welcome other such stories from our readers
How Absent-minded are British Passengers on Buses t .
An Appreciation of ONDUCTORS of public Kindness from a Bus '-'service vehicles have some Conductor . . . times been accused of dis courtesy. No doubt there is occasionally justification for complaint, but it should be remembered that members of the public can themselves be very trying. A conductor's job is not all beer and skittles. There are many occasions, particularly during peak-traffic hours, when the work of fare collection alone is difficult to carry out. It is then that the old lady fishing for long in a bag, and who, incidently, could quite probably travel at more convenient times, may cause irritation. Then there are the people who endeavour to " jump " the queues or mount at traffic stops, and who have to be " dropped " or at least warned. On the other hand, there are numerous cases of great kindness to passengers. A little while ago a man who described himself as "an old fogey of 76" wrote to Lord Ashfield enclosing a pound note for the conductor who, during two years, had always found him a seat.