Municipal Taxicabs Mooted
28th November 1947
Page 24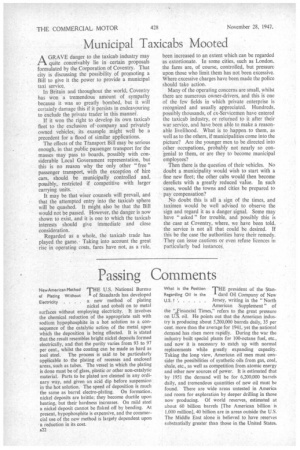 Page 24, 28th November 1947 —
Municipal Taxicabs Mooted
Close
AGRAVE danger to the taxicab industry may quite conceivably lie in certain proposals formulated by the Corporation of Coventry. That city is discussing the possibility of promoting a Bill to give it the power to provide a municipal taxi service.
In Britain and throughout the world, Coventry has won a tremendous amount of sympathy because it was so greatly bombed, but it will certainly damage this if it persists in endeavouring to exclude the private trader in this manner. If it won the right to develop its own taxicab fleet to the exclusion of company and privately owned vehicles, its example might well be a precedent for a flood of similar applications. The effects of the Transport Bill may be serious enough, in that public passenger transport for the masses may pass to boards, possibly with considerable Local Government representation, but this is no reason why the only other " free " passenger transport, with the exception of hire cars, should be municipally controlled and, possibly, restricted if competitive with larger carrying units.
It may be that wiser counsels will prevail, and that the attempted entry into the taxicab sphere will be quashed. It might also be that the Bill would not be passed. However, the danger is now shown to exist, and it is one to which the taxicab interests should give immediate and close consideration.
Regarded as a whole, the taxicab trade has played the game. Taking into account the great rise in operating costs, fares have not, as a rule, been increased to an extent which can be regarded as extortionate. In some cities, such as London, the fares are, of course, controlled, but pressure upon those who limit them has not been excessive. Where excessive charges have been made the police should take action: Many of the operating concerns are small, whilst there are numerous owner-drivers, and this is one of the few fields in which private enterprise is recognized and usually appreciated. Hundreds, possibly thousands, of ex-Servicemen have entered the taxicab industry, or returned to it after their war service, and have been able to make a reasonable livelihood. What is to happen to them, as well as to the others, if municipalities come into the picture? Are the younger men to be directed into other occupations, probably not nearly so con'genial to them, or are they to become municipal employees?
Then there is the question of their vehicles. No doubt a municipality would wish to start with a fine new fleet; the other cabs would then become derelicts with a greatly reduced value. In such cases, would the towns and cities be prepared to pay compensation?
No doubt this is all a sign of the times, and taximen would be well advised to observe the sign and regard it as a danger signal. Some may have " asked " for trouble, and possibly this is the case at Coventry, where, we have been told, the service is not all that could be desired. If this be the case the authorities have their remedy. They can issue cautions or even refuse licences in particularly bad instanceS',