New Regulations on Vehicle Lighting ?
28th November 1947
Page 23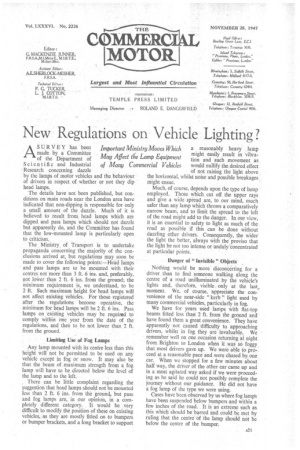 Page 23, 28th November 1947 —
New Regulations on Vehicle Lighting ?
Close
A SURVEY has been Important Ministry Moves Which made by a Committee of the Department of may Affect L,amp Equipment Scientific and Industrial of Many Commercial Vehicles Research concerning dazzle _ by the lamps of motor vehicles and the behaviour of drivers in respect of whether or not they dip head lamps.
The details have not been published, but conditions on main roads near the London area have indicated that non-dipping is responsible for only a small amount of the dazzle. Much of it is believed to result from head lamps which are dipped and pass lamps which should not dazzle but apparently do, and the Committee has found that the low-mounted lamp is particularly open to criticism.
The Ministry, of Transport is to undertake propaganda concerning the majority of the conclusions arrived at, but regulations may soon be made to cover the following points:--Head lamps and pass lamps are to be mounted with their centres not more than 3 ft. .6 ins, and, preferably, not lower than 2 ft. 6 ins, from the ground; the Minimum reqUirement is, we understand, to be 2 ft. Such maximum height for head lamps will not affect existing vehicles. For 'those registered after the regulations become operative, the minimum for head tamps will be 2 ft. 6 ins. Pass, lamps on existing vehicles may be requited to comply within one year from the date of the regulations, and then to be not lower than 2 ft. from the ground.
Limiting Use of Fog Lamps Any lamp mounted with its centre less than this height will not be permitted to be used on any Vehicle except in fog or snow. ft may also be that the beam of maximum strength from a fog lamp will have to be directed below the level of the lamp and to the left.
, There can be little complaint regarding the suggestion that head lamps should not be mounted less than 2 ft, 6 ins, from the ground, but pass and fog lamps are, in our opinion, in a completely different category. It would be very difficult to modify the position of these on existing vehicles, as they are mostly fitted on to bumpers or bumper brackets, and a long bracket to support a reasonably heavy lamp might easily result in vibration and such movement as would nullify the desired effect of not raising the light above the horizontal, whilst noise and possible breakages might ensue.
Much, of course, depends upon the type of lamp employed. Those which cut off, the upper rays and give a wide spread are, to our mind, much safer than any lamp which throws a comparatively narrow beam, and to limit the spread to the left of the road might add to the danger. In our view, it is an essential to safety to light as much of the road as possible if this can be done without dazzling other drivers. Consequently, the wider the light the better, always with the' proviso that the light be not too intense or unduly-concentrated at particular points.
Danger of." Invisible" Objects' , Nothing would be more disconcerting, for a driver, than to find someone walking along the centre of a road unilluminated by the vehicle's lights and, therefore, visible only at the last, moment. We, of course, appreciate the convenience of the near-side " kerb " light used by many commercial vehicles, particularly in fog.
We have for years used lamps with flat-top beams fitted less than 2 ft. from the ground and have found them a great convenience. They have apparently not caused 'difficulty to approaching drivers, whilst in fog they are invaluable. We remember well on one occasion returning at night from Brighton to London when it was so foggy that most drivers gave up. We were able to proceed at a reasonable pace and were chased by one car. When we stopped for a few minutes about half way, the driver of the other car came up and in a most agitated way asked if we were proceeding as he said he could not possibly complete the journey without our guidance. He did not have a fog lamp of the type we were using.
Cases have been observed by us where fog lamp's have been suspended below bumpers and within a few inches of the road. It is an extreme such as this which should be barred and could be met by ruling that the centre of the lamp should not be below the centre of the bumper.