Motor-Aided Commercial Travellers.
28th December 1905
Page 10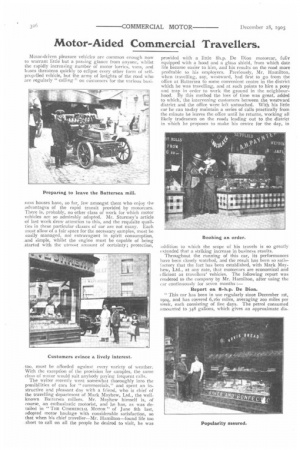 Page 11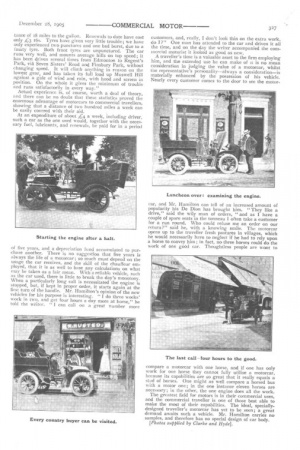 Page 10, 28th December 1905 —
Motor-Aided Commercial Travellers.
Close
Motor-driven pleasure vehicles are common enough now to warrant little but a pasing glance from anyone, whilst the rapidly increasing number of motor lorries, vans, and buses threatens quickly to eclipse every other form of selfProp;stied vehicle, but the army of knights of the road who are regularly " calling " on customers for the various busi.
ness houses have, so far, few amongst them who enjoy ale advantages of the rapid transit provided by motorcars. There is, probably, no other class of work for which motor vehicles are so admirably adapted. Mr. Sturmey's article of last week drew attention to this, and the requisite qualities in these particular classes of car are not many. Each must allow of a fair space for the necessary samples, must be easily managed, not extravagant in spirit consumption, and simple, whilst the engine must be capable of being started with the utmost amount of certainty; protection, .too, must be afforded against every variety of weather. With the exception of the provision for samples, the same class of motor would suit anybody paying frequent calls.
The writer recently went somewhat thoroughly into the possibilities of cars for "commercials," and spent an instructive and pleasant day with a friend, who is chief of the travelling department of Mark Mayhew, Ltd., the wellknown Battersea millers. Mr. Mayhew himself is, of course, an enthusiastic motorist, and he has, as was detailed in "THE COMMERCIAL MOTOR" of June 8th last, adopted motor haulage with considerable satisfaction, so that when his chief traveller—Mr. Hamilton—found life too ,.short to call on all the people he desired to visit, he was
provided with a little Sh.p. De Dion motorcar, fully equipped with a hood and a glass shield, from which date life became easier to him, and his results on the road more profitable to his employers. Previously, Mr. Hamilton, when travelling, say, westward, had first to go from the office at Battersea to some convenient centre in the district which he was travelling, and at such points to hire a pony and trap in order to work the ground in the neighbourhood. By this method the loss of time was great, added to which, the intervening customers between the westward district and the office were left untouched. With his little car he can to-day maintain a series of calls practically from the minute he leaves the office until he returns, working all likely tradesmen on the roads leading out to the district in which he proposes to make his centre for the day, in addition to which the scope of his travels is so greatly extended that a striking increase in business results.
Throughout the running of this car, its performances have been closely watched, and the result has been so satisfactory that the fact has been established, with Mark Mayhew, Ltd., at any rate, that motorcars are economical and clficient as travellers' vehicles. The following report was rendered to the company by Mr. Hamilton, after using the car continuously for seven months :—
Report on 8-h.p. De Dion.
" This car has been in use regularly since December 1st, 1904, and has covered 6,16o miles, averaging 200 miles per week, each consisting of five days. The petrol consumed amounted to 348 gallons, which gives an approximate ciis tance of 18 miles to the gallon. Renewals to date have cost only X",3 i6s. Tyres have given very little trouble; we have only experienced two punctures and one bad burst, due to a fauity tyre. Both front tyres are unpuncturcd. The car runs very well, and mounts average hills on top speed; it has been driven several times from Edmonton to Regent's Park, via Seven Sisters' Road and Finsbury Park, without changing speed. It will climb anything in reason on the lowest gear, and has taken its full load up Muswell Hill against a gale of wind and rain, with hood and screen in position. On the whole it gives the minimum of trouble and runs satisfactorily in every way." Actual experience is, of course, worth a deal of theory, and there can be no doubt that these statistics proved the -enormous advantage of motorcars to commercial travellers, showing that a distance of two hundred miles a week can be easily covered with their aid.
At an expenditure of about £4 a week, including driver, such a car as the one used would, together with the necessary fuel, lubricants, and renewals, be paid for in a period of five years, and a depreciation fund accumulated to purchase another. There is no suggestion that five years is always the life of a motorcar; so much must depend on the usage the car receives, and the skill of the chauffeur employed, that it is as well to base any calculations on what may be taken as a fair mean. With a reliable vehicle, such as the car used, there is little to break the day's monotony. When a particularly long call is necessitated the engine is stopped, but, if kept in proper order, it starts again at the first turn of the handle. Mr. Hamilton's opinion of the new vehicles for his purpose is interesting. "1 do three weeks' work in two, and get four hours a day more at home," he told the writer. "I can call on a great number more customers, and, really, I don't look thin on the extra work, do I?" One man has attended to the car and driven it all the time, and on the day the writer accompanied the commercial motorist it looked as good as new.
A traveller's time is a valuable asset to the firm employing him, and the extended use he can make of it is no mean consideration in judging the value of a motorcar, whilst the representative's personality—always a consideration—is materially enhanced by the possession of his vehicle. Nearly every customer comes to the door to see the motor car, and Mr. Hamilton can tell of an increased amount of popularity his De Dion has brought him. "They like a drive," said the wily man of orders, "and as 1 have a couple of spare seats in the tonneau I often take a customer for a run round. Who could refuse me an order on our return?" said he, with a knowing smile. The motorcar opens up to the traveller fresh pastures in villages, which he would necessarily have to neglect if he had to rely upon a horse to convey him; in fact, no three horses could do the work of one good car. Thoughtless people are wont to compare a motorcar with one horse, and if one has only work for one horse they cannot fully utilise a motorcar, because its capabilities are so great that it really equals a stud of horses. One might as well compare a horsed bus with a motor one; in the one instance eleven horses are necessary ; in the other, the one engine does all the work.
The greatest field for motors is in their commercial uses, and the commercial traveller is one of those best able to make the most of their capabilities. The ideal, speciallydesigned traveller's motorcar has yet to be seen; a great demand awaits such a vehicle. Mr. Hamilton carries no samples, and therefore has no special design of car body. [Photos supplied by Clarke and Hyde].