ISRAEL IS REALISTIC about road transport
27th January 1950
Page 42
Page 43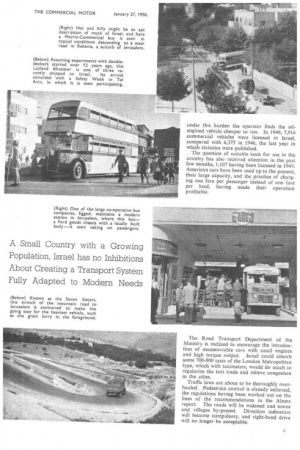 Page 42, 27th January 1950 —
ISRAEL IS REALISTIC about road transport
Close
drafting committee which prepared the proposals considered at the World Road Conference in. Geneva Iasi 'August In one way these planneri are at an advantage, for it is in their power to build up an ideal transport system without the necessity,. evident elsewhere, of breaking down the existing systems, evolved over a lang period in thepast.
Diverse Conditions
. What are the special features of road transport in Israel? In the first place, climatic and topographic conditions make heavy demands on all types of vehicle. Summer temperatures in the region of 115 degrees F. are common. Climatic difficulties are matched by physical disadvantages.
A small country, Lsrael consists of a narrow and fertile coastal plain backed hi a central mountainous spine and an inhospitable, desert hinterland. Thus the journey to Jerusalem from the coast, some 40 miles, encompasses in the last 15.i miles a climb to an altitude of 2.800 ft. Another town, Tiberias, on the eastern shore of the Sea of Galilee,is, 650 ft. below sea level, and to reach the township of Salad, 20 miles -to the north, the road has to climb 3,250 ft. In the cities, conditions are similar, Balfour Street in Haifa having a gadient of almost 1 in 5.
Roads in general are excellent, although narrow, being a legacy. from the days' of the mandate, when they were constructed with an eye io their strategic value. Roads being good, the railways are of lesser
ax
running of co-operative bus companies, said that he had expected to find disorder and lack of discipline. Instead he found groups of eager people willing to work hard.
The standard of driving exercised by bus drivers is high, perhaps because they are recruited largely from the professional classes, having been at one time doctors, professors or lawyers. Forced to flee from European countries to Palestine, as it then was, these men found their own professions overstocked,' and the agricultural life Was not to their tastes. They therefore bought buses and joined a co-operative, on behalf of which they drove the vehicles.
More Vehicles Needed At present 1,112 . buses are operated in Israel (compared with 1,227 in 1946), but to meet the general demand at least 2,000 are required. Leyland buses in particular have established a good reputation in the past, especially for urban operation. A move is now on. foot to introduce other well-known British makes to the country, but it is clear that U.S. chassis makers are also keen to supply their models.
Local bodybuilders are good, but their designs are out of date. Imported bodies from Britain would serve as a standard to enable Israeli makers to modernize their ideas..
sary probably as a result of the increase in population and the deteriorating transport situation which this influx of inhabitants has caused,
" Modernizing Tendencies A complicated fare system further bedevils the business of bus operation. Investigations into high-speed ticket issuing machines, uniform fares and the P.A.Y.E, system are proceeding, apd the rear-entrance, front-exit bus is being considered. The use of trailer and semi-trailer buses is also tinder careful examination.
Construction and Use regulations have, in the past, closely resembled British regulations. Now, however,*he Comptroller of Road Transport has modified the laws of the mandatory government to permit the use of overall widths of 8 ft. and overall' lengths of 30 ft. on two axles.
Petrol engines have been largely used in the past, both for passenger and goods vehicles, but a sharply defined trend in the direction of the oil engine has appeared. Most of the bus chassis ordered from the U.S.A. in recent months will have oil engines. .
Fiat oil engined lorries have enjoyed some success, having been introduced into the country experimentally. Petrol at the moment costs over 4s. a gallon, whilst oil, fuel is cheaper. However, oil engines are taxed at £200 a year. but even under this burden the operator finds the oilengined vehicle cheaper to run. In 1949, 7,916 commercial vehicles were licensed in Israel, compared with 6,375 in 1946, the last year in which statistics were published.
The question of suitable taxis for use in the country has also received attention in the past few months, 1,107 having been licensed in 1949. American cars have been used up to the present, their large capacity, and the practice of charging one fare per passenger instead of one fare per load, having made their operation profitable.
The Road Transport Department of the Ministry is inclined to encourage the introduction of manceuvrable cars with small engines and high torque output. Israel could absorb some 700-800 taxis of the London Metropolitan type, which with taximeters, would do much to regularize the taxi trade and relieve congestion in the cities.
Traffic laws are about to be thoroughly overhauled. Pedestrian control is already enforced, the regulations having been worked out on the lines of the recommendations in the Alness report. The roads will be widened and towns and villages by-passed. Direction indicators will become compulsory, and right-band drive will no longer be acceptable.