A World Guide to
27th January 1950
Page 41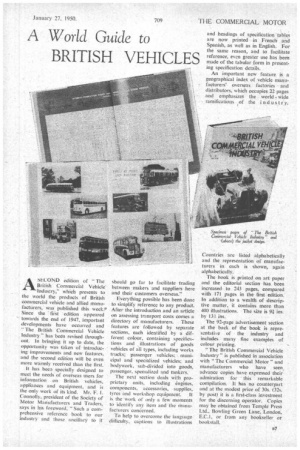 Page 42
Page 41, 27th January 1950 —
A World Guide to
Close
BRITISH VEHICLES
AASECOND edition of "The British Commercial Vehicle ''..litchistry," which presents to the world the products of British commercial vehicle and allied manufacturers,. was Published this week! Since the " first edition appeared towards the end of 1947, important developments have occurred and
The British 'Commercial Vehicle industry" has been revised throughout. in bringing it up to date, the opportunity was taken of introducing improvements and new features, and the second edition will be even more warmly received than the first.
It has been specially designed to meet the needs of ovetseas users for information . on British vehicles, appliances and equipment, and is the only work of its kind. Mr. F. 1. Connolly, president of the Society of Motor Manufacturers and Traders, says in his foreword, "Such a 'coinprehensive reference book to Our industry' and those ancillary to it should go far to facilitate trading between 'makers and suppliers here and their customers overseas."
,Everything possible has been done to siniplify reference to any product. After the introductiOn and an article on assessing transport costs comes a directory of manufacturers. These features are followed by separate seetions, each identified by a different colour, containing specifications and \ illustrations of goods vehicles of all types, including works trucks; passenger . vehicles; municipal and specialized vehicles; and bodywork, sub-divided into goods, passenger, specialized and tankers.
The next section -deals with proprietary units. including engines, components, accessories, supplies,
tyresand workshop equipment. It is the 'work of only a few moments to identify any item and the manufacturers concerned.
To help to overcome the language difficulty,. captions to illustrationS Countries are listed alphabetically and the representation of manufacturers in each is shown, again alphabetically.
The book is printed on art paper and the editorial section has been increased to 243 pages, compared with 171 pages in the first edition. In addition to a wealth of descriptive matter, it Contains more than 400 illustrations. The site is 9! ins. by 131 ins.
The 92-page advertisement section at the back of the book is representative of the industry and includes many fine examples of colour. printing.
"The British Commercial Vehicle Industry" is published in association with "The Commercial Motor" and manufacturers who have seen advance copies have expressed their admiration for this remarkable compilation. It has no counterpart and at the modest price of 30s. (32s. by post) it is a first-class investment for the discerning operator. Copies may be obtained from Temple Press Ltd., Bowling Green Lane, London, E.C,1, or from any bookseller or bookstall. ASbefits the youngest political ' entity among the nations of . the world, Israel is a country where road transport plays a vital, but youthful, part in the life of the country. . To apply the dictionary definition of youth to road transport in Israel, it can be said to be ". not yet . far advanced in development, being of recent birth, full of vigour and enthusiasm, but lacking in experience."
In one way, howevir, this young country is favoured, for its transport chiefs are men of .experience, eager to build up a model system and to
:. serve the country's purposes efficiently. Acknowledgment of this may be seen in the fact that Israel was chosen to be a member of the importance, but plans to develop them in co-ordination with the road services are under consideration. Highway development is also planned, and internationally agreed standards, as defined at the Geneva conference, will be applied to their dimensions, layout and signposting.
Bus services in Israel are all co-operatively owned_ Amalgamation of the smaller companies has been pursued until there is now a number of large units owning up to 300 buses and run by 500 or• so member employees. The present tendency is to combine all operating societies into a single national transport co-operative.
An American expert who recently visited the country to study the
Double deckers did not find approval . when tried out experimentally in the past. The hot climate and the use of buses by. passengers over very short stages in the rainy season militated against their success. Then, again, the high standard of living in the country made the employment of a conductor a heavy additional expense. The driver-conductor, system is, therefore, the general rule, which precludes the use of double-deckers •
However, it has recently been announced that left hand drive double-deckers based on special Leyland Tiger LOPS2 chassis with a 174t. 7-in, wheelbase have been '
delivered to Israel. These Vehicle...will seat 60, and have become nece,,