N EW Continental and Scandinavian chassis shown at the Brussels Salon
27th January 1950
Page 38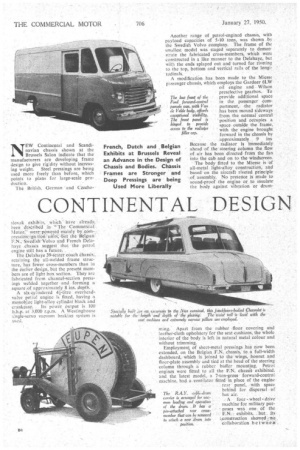 Page 39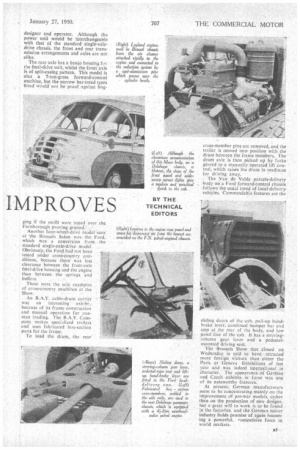 Page 38, 27th January 1950 —
N EW Continental and Scandinavian chassis shown at the Brussels Salon
Close
indicate that the manufacturers are developing frame design to give rigidity without increas
ing weight. Steel pressings are being used more freely than before, which points to plans for large-scale production.
The British, German and Czech°. Another range of petrol-engined chassis, with payload capacities of 5-10 tons, was shown by the Swedish Volvo company. The frame of the smallest model was staged separately to demonstrate the fabricated cross-members, which were constructed in a like manner to the Delahaye, but with the ends splayed out and turned for riveting to the top, bottom and vertical rails of the longitudinals.
A modification has been made to the lvliesse passenger chassis, which employs the Gardner 61...W oil engine and. Wilson preselective gearbox. To provide additional space in the passenger compartment, the radiator has been moved sideways from the normal centralposition and occupies a space outside the frame, with the engine brought forward in the chassis by
approximately 9 ins Because the radiator is immediately ahead of the steering column the flow of air has been directed from the fan into the cab and on to the windscreen.
The body fitted to the Miesse is of all-metal light-alloy construction, and based on the aircraft riveted principle of assembly. No pretence is Made to sound-proof the engine or to insulate the body against vibration or drum
designer and operator. Although the power unit would be interchangeable with that of the standard single-axledrive chassis, the front and rear transmission arrangements and axles are not alike.
The rear axle has a banjo housing for the final-drive unit, whilst the front axle is of split-casing pattern. This model is also a 7-ton-gross forward-control machine, but the narrow bar-tread tyres fitted would not be proof against bog' cross-member pins arc removed, and the trailer is moved into position with the drum between the frarrie members. The drum axle is then picked up by forks• geared to-a manually operated lift control, which raises the drum in readiness for driving away.
The Van Velde parcels-delivery bodyapn a Ford forward-control cha'Ssis follows the usual trend of local-deliveryvehicles. Commendable features are the