Vehicles to be Dearer ?
27th January 1950
Page 37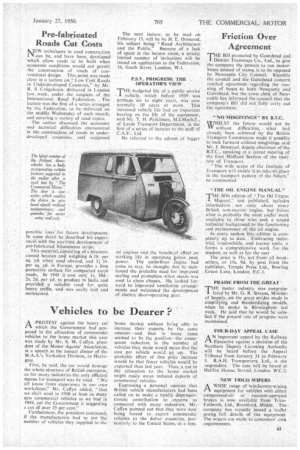 Page 37, 27th January 1950 —
Vehicles to be Dearer ?
Close
A. PROTEST against the heavy cut which the Government had :proposed in' the allocation of commercial vehicles to the home market this year was made by Mr. S. M. Caffyn, president of the Motor Agents' Association. in a speech at the annual dinner of the M.A.A.'s Yorkshire Division, -in Harrogate.
First, he said, the cut would damage the whole structure of British enterpnise, as for many industries the only efficient means for transport was by road, "Me all know from experience in our own workshops," Mr. Caffyn added, " that we shall need in 1950 at least as Many new commercial vehicles as we had in 1949, yet the Government is suggesting
a cut of over 25 per cent."
Furthermore, the president continued, if the manufacturers had to cut the number of vehicles they supplied to the
home marke,t without being able to increase their exports by the same amount—and that in many cases seethed -to be the position---the consequent reduction in the number of vehicles they made would mean that the cost per vehicle would go up. The probable effect of this price increase would be that fewer vehicles would be exported than last year. Thus, .a cut in the allocation to the home market. might ealy mean reduced exports of commercial vehicles.
Expressing a personal opinion that British vehicle manufacturers had been called on to make a totally disproportionate contribution to exports • as compared with many industries, Mr. Caffyn pointed out that they were now being • forced to export commercial vehicles to the dollar countries, particularly to the United States, at a loss.