Aluminium. Prices • Reduced
27th January 1950
Page 36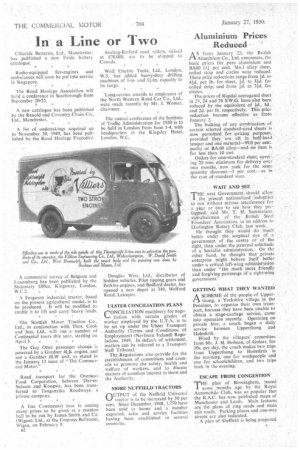 Page 36, 27th January 1950 —
Aluminium. Prices • Reduced
Close
AS from January 23, the British Aluminium Co., Ltd. announces, the basic prices for pure aluminium and BA60 (11 per cent. Mn.) alloy sheet, coiled strip and circles were reduced. These price reductions range from 4d. to 4-ad. per lb. • for sheet, RI. to 3id.' for coiled strip, and from ?id. to 70. for circles.
The -prices of Rigidal corrugated sheet in 23, 24 and 26 S.W.G. have also been
reduced by the equivalent of Id., and 2d. per lb. respectively. This price reduction became -effective as froin January 2.
The bulking of any combination of certain selected standard-sized sheets is now permitted for -.pricing -purposes, provided they are all. in half-bard temper and.one material-99.0 per cent. purity -or BA.60 alloy—and tio item is for less -than 10 .cwt.
Orders for non-standard sheet, covering 20 tons minimum for delivery .-over two months,7.now rank for the same. quantity discount-3 per. cent—as in . the case of standard sizes.
THE . next Government, should allow . the., present nationalized industrieS to run without Serious interference for a :year or two to see bow they per, fox0iiii, said Mr: 1'. H. Sun-mierson. via-chairman of the British Steel Founders' A.ssociation, in an address to Darlington Rotary Club, last week. He thought they would do .much. ' better under -the sceptical eye of a . government of the centre or of the right,. than under the paternal solicitude of a. Socialist administration.the other hand, he thought thaprivate enterprise might behave itself better under a critical left-wing administration than . under " the much more friendly and forgiving patronage Of a right-wing government."
GETTING WHAT THEY WANTED
A SCHEME of the people of Upper
thong, a Yorkshire village in the' Pennines, to organize their own transport. because they have been unable to obtain a stage-carriage service, came into operation recently. Operating on private hire, a coach began a daily service between Upperthong and • Holmfirth, Hired by the villagers' committee from Mr. J. H. Hobson, of Ciolear, for 30s. per day, the coach makes two trips from Upperthong to Holmfirth in the morning, one for workpeople and one for schoolchildren, and two trips back in the evening.
ESCAPE FROM CONGESTION
THE plan of Birmingham. issued some months ago by' the Royal Automobile Club, was so popular that 'the R.A.C. has now published maps of Manchester and Leeds. Main features are the plans of ring roads and main exit roads. Parking places and one-way streets are also indicated.
A plan of Sheffield is being prepared.