Road Transport Likely. to Grow
27th January 1950
Page 35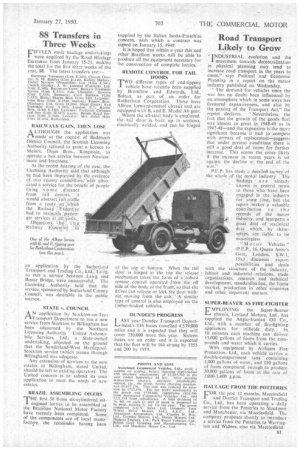 Page 35, 27th January 1950 —
Road Transport Likely. to Grow
Close
'INDUSTRIAL evolution and th movement towards decentralizatior.,.
in , physical planning may tend to increase road transport in the years to come," says Political and Economic Planning in a report on the motor industry published on Wednesday.
The demandfor vehicles Since the war has no doubt been influenced by an atmosphere which in some ways has favoured expansiveness, and also by the passing of the Transport Act," the report declares. "Nevertheless, the fact that the growth of the goods fleet was almost, as great in 1948-49 as in 1947-48—and the expansion iS the more significant because it had to compete with arrears of replacement—suggests that tinder present conditions there is still a good deal of room for further increase. This seems the more likely if the increase in recent years is set against the 'decline at the end of the war:"
P.F.P. has made 4 detailed survey of the Ny holc of the motor industry The findings are already known in general . terms to those Who • have been engaged' in the industry for' some _time. -but the report 'Makes a valuable contribution to the records of the motor industry. and interprets a great deal of statistical data which, by them
selves, are liable to be meaningless .`! ot or Vehicles , (P.E.P., 16, Queen Anne's Gate, London, S.W.], 15s.) discusses export possibilities and deals
with the structure of the industry, .labour and industrial_ relations, trade organizations, research and technical development, standardization, the home 'market, prOduction in othercountries and other_ important matters.
SUPER-BEAVER AS FIRE-FIGHTER
EMPLOYING the Super-Beaver 1-:-4 chassis, Leyland Motors, Ltd., has supplied the Anglo-Iranian Oil Co., Ltd., with a. number of fire-fighting appliances for oilfields duty. In 10 minutes each machine can deliver 11,000 gallons of foam from the compounds and water which it carries.
With equipment by Airfoam Fire Protection, Ltd., each vehicle carries a double-compartment tank containing 1,000 gallons of water, and 150 gallons of foam compound, enough to produce 30,000 gallons of foam at the rate of 1,000-.1,400 g.p:m.
HAULAGE FROM THE POTTERIES
COR the past 12 months, Macclesfield
and District Transport and Trading Co., Ltd., has been operating a daily service from the Potteries to Stockport and Manchester, via Macclesfield. The company proposes shortly to introduce a service from the Potteries to Warrington and Widnes, also via Macclesfield.